Proprietors of new restaurants within the old city limits of Indianapolis historically could expect to fork over about $50,000 to snag a permit to offer their customers beer, wine and liquor.
The so-called three-way permits were scarce in certain parts of the city, and had to be purchased on the open market from existing operators, because of a state quota system that never recognized Unigov. Permits were more plentiful in areas that fell outside the old city limits—like the 86th Street corridor.
But the whole permit dynamic—including the price and how many are available—is about to change dramatically. The Indiana Alcohol & Tobacco Commission plans to sell up to 101 new three-way restaurant permits for Marion County at an auction Nov. 18.
The offering follows a recalculation—using fresh U.S. Census numbers—of how many permits should be distributed in the city. Simultaneously, the commission decided to recognize the boundaries of the city of Indianapolis as those areas serviced by the newly consolidated Indianapolis Fire Department, said Travis Thickstun, a spokesman for the Alcohol & Tobacco Commission.
The new permit calculation for Indianapolis takes into account more than two-thirds of the geographic area of Marion County, excluding only the towns of Beech Grove, Lawrence, Southport and Speedway. The result: 94 new three-way permits available for Indianapolis, five more for Lawrence, and one more each for Beech Grove and Speedway.
The state also plans to auction newly available three-way permits in surrounding cities, including 10 in Carmel, seven each in Brownsburg, Greenfield and Westfield, and three each in Danville and Franklin.
The highly anticipated sale likely will draw a mix of restaurateurs, building owners and real estate developers.
Restaurant owners might be looking for new locations or to upgrade from one-way or two-way permits. Building owners and developers may want to attach permits to properties as a selling point to attract new restaurant tenants.
The biggest question is how much the permits will fetch, given the high number available and the auction format, said Tom Ristine, a partner at Indianapolis-based Lewis & Kappes who has been representing clients on matters involving alcoholic beverage permits since 1975.
Ristine expects many Mexican restaurants that serve only beer and wine will bid on the permits so they can finally pour tequila in their margaritas.
Buyers of the permits will have to prove they have an interest in the property where they plan to operate and apply for local approval from the Marion County Alcoholic Beverage Board, which holds public hearings on each application, Ristine said.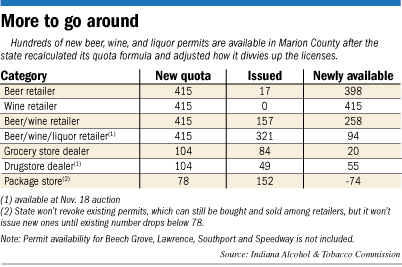 "The commission won't want people to bid on them to park them," he said. "Nor will they want buyers to speculate on them in hopes of selling them eventually." (Buyers at auction will not be allowed to flip the permits at a higher price.)
The Alcohol & Tobacco Commission also plans to sell 72 permits for drugstores at the Nov. 18 auction, Thickstun said.
Dozens of permits to serve just beer, just wine, or beer and wine are available from ATC for immediate purchase. One-way permits are $500, and two-ways are $750.
Three-way permits that don't sell would be offered for $1,000 apiece 60 days after the auction.
The changes make sense, Ristine said, because they remedy the varied availability of permits based on a business's location.
Depending on how much buyers are willing to pay for the newly available permits, the losers in the deal could be restaurateurs who just paid top dollar for a three-way, or those owners who had hoped to liquidate their business soon.
Restaurant owner Neal Brown said he paid more than $40,000 for his permit for The Libertine Liquor Bar along Washington Street just west of Pennsylvania Street.
But Brown said he was ready to open and wouldn't have waited even if he knew so many new permits would be auctioned.
He says the timing of the new permits—just three months before Indianapolis hosts the Super Bowl—could help provide even more drinking options for the city's guests.
"I think overall it will be very good for Indianapolis," Brown said. "It should entice more restaurants to come into Indianapolis. And if it drops the price, it will encourage more independent restaurants."•
Please enable JavaScript to view this content.