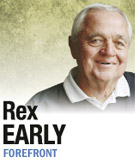 Mark Twain wrote, "No man's life, liberty or property are safe when the Legislature is in session."
Lock the doors and put the dogs under the porch because the 2012 Legislature will soon be in session.
Usually, when it is an election year, mum is the word. It's, "Let's don't rock no boats" and, "Let's stay away from anything controversial."
Next year will be different.
Republicans have a 60-40 majority in the House and a 37-13 majority in the Senate and a lame-duck Republican governor who isn't running for any office.
We also have a covey of conservative legislators elected in 2010, and after one session they are ready for action. Some of these newer members see 2012 as a great opportunity to pass some of their favorite controversial legislation.
• We will see another attempt to pass right-to-work legislation.
I am sure we will again see the uproar we experienced last year when the bill was introduced. I will be surprised if 100 percent of the Republican legislators vote for the bill, so it's anybody's guess as to whether it passes.
The Indiana Chamber of Commerce will be the big advocates, but of course chamber members don't have to run for re-election.
The governor sat on the sidelines in 2011. What will he do this session?
In 2010, the Democrats won the battle but might have lost the war when they decided to bug out to Illinois.
Regardless how you feel about right to work, walking out of the session was unacceptable. Legislators have an unwritten contract with constituents to represent them and they cannot honor that contract from Illinois. A democratic republic will not work if you walk out when you are in the minority and are out-voted.
I am not sure it will work, anyway, if we do not have term limits. Governors come and governors go, but some of our legislators with their safe districts seem to stay on 20 to 40 years. I don't think that's what our forefathers had in mind.
• Another hot piece of legislation that probably will be introduced would speak to the number of administrators employed by our public school systems. In some systems, there seem to be as many administrators as teachers.
I pass the Washington Township Schools administration building every morning when I go to work. The building is enormous; even the people who ran the Hoosier Lottery would admire its size. Usually, there are more cars parked there than at an Indiana Pacers game.
One thing for sure: The teachers union will howl.
• Legislation will phase out Indiana's inheritance tax.
According to The Wall Street Journal, Indiana is ranked among the worst states in the country for combined state and federal inheritance tax.
The American Legislative Exchange Council ranks Indiana 50th for state inheritance taxes. We can safely say we are No. 1 in the country when the subject comes up of who has the worst death tax.
• There might be legislation that gives the governor's appointed higher education commission more authority than just an advisory capacity on tuition increases.
In the past, the Legislature has chosen not to give that authority to the commission. As long as key legislators are employed by the state-supported institutions, that legislation will never pass.
I am amazed that Indiana University, my alma mater, proudly announced it has 7,000 foreign students this year when Indiana taxpayers' children couldn't get accepted. That was coupled with a 12-percent raise for the president along with tuition raises of 5.5 percent in 2011-2012 and 5.3 percent in 2012-2013.
The Indianapolis Star reports that the tuition at our state's seven public universities is up 300 percent in the past two decades.
I would hope our next governor will have a little talk with the trustees he appoints.
Sometimes, university trustees get confused on who's the organ grinder and who's the monkey. The governor is the organ grinder.•
__________
Early served in the Indiana House and as a Republican Party state chairman, as well as on the Republican National Committee. Send comments on this column to ibjedit@ibj.com.
Please enable JavaScript to view this content.