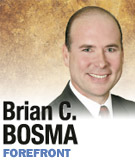 Question: Will any major issues have bipartisan support in the upcoming General Assembly?
Answer: With the most volatile session in recent Hoosier history in the rearview mirror, some are calling for a "do nothing" session of the 2012 General Assembly. Some legislators want to return home and campaign for the election. Others want to avoid controversy before an election.
In response to similar concerns, I once heard Gov. Bob Orr memorably say, "Hoosiers' futures can't wait for the next election." In light of our state's current challenges, Orr's advice is just as meaningful today.
While our state is faring far better than others, the national malaise has kept Indiana's unemployment hovering around 9 percent. Despite strict fiscal discipline and some of the most innovative job-creation measures in the nation, some 265,000 Hoosiers who want work still can't find a job. Tens of thousands more are underemployed. The job prospects for many of our young college graduates are dim at best.
As Republicans sought civil debate and a vote on historic job-creation legislation in 2011, Democrats launched a 35-day out-of-state legislative strike in response. Adopting Churchill's "keep calm and carry on" mantra, Republicans achieved the vast majority of our goals notwithstanding the Democratic walkout. But our hope of making Indiana the 23rd right-to-work state in the nation remained on the sidelines.
As we again consider the best means of promoting job creation, speculation abounds regarding the next tactic to avoid this issue. Regardless of any outlandish response, Republican leaders will continue our hope of reaching bipartisan support for this critical measure. And this isn't just talk—our track record speaks for itself.
Last year, I broke 194 years of partisan tradition by appointing two minority-party members to key committee chairmanships, a first in state history. The Democratic leader termed this outreach a "stick in the eye," but as I announced at the Midwest Legislative Leadership Conference this summer, I hope these first cross-party appointments establish a bipartisan tradition for our state and others.
A second bipartisan initiative—the establishment of the Select Committee on Government Reduction—eliminated more than 20 government boards and 170 appointed positions. This committee continued its bipartisan work over the summer and has already identified 15 additional boards for elimination or consolidation, making Indiana government even more efficient.
Other important issues for 2012 like the statewide smoking ban, local government reform measures, mass transit and additional relief for victims of the State Fair tragedy will likely be decided by legislators of both parties working together to find common ground.
For legislative success, however, a sufficient number of members must be present for issues with bipartisan support to move forward. Bipartisanship by definition requires both parties to participate, but successful democracy requires more—civil participation, debate and votes, even when we strongly disagree on an issue.
Bipartisan solutions are more common in state government than most realize, but when discussions turn to job creation, the parties have fundamental differences. Republican efforts have focused on creating an environment for the private sector to thrive and expand employment while our Democratic colleagues have focused on expanding government spending and programs.
After a summer study committee finding that private-sector labor reform could result in significant employment opportunities for Hoosiers who need work, the Democratic rhetoric on this critical issue is guaranteed to rise. We will continue to work with the willing, and to work around those who are bent on preventing reform at any cost to Hoosiers.
This session, difficult job creation conversations must occur and we must continue to explore every possible solution. We will respond to the Democratic claims that our pro-jobs agenda is "radical" with logic every out-of-work Hoosier can understand: Hoosiers want jobs, and there's nothing radical about that.•
__________
Bosma, a Republican, is speaker of the Indiana House of Representatives and a partner in the law firm Kroger Gardis & Regas. Send comments on this column to [email protected].
Please enable JavaScript to view this content.