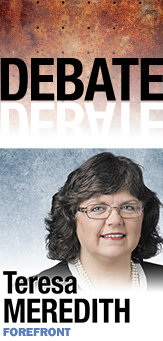 Question: A key portion of school reform that would have created new powers for parents to force change in failing public schools died in the Legislature in April. If 51 percent of parents in a public district school sign a petition, the district would have to allow the parents to apply to a charter school authorizer to convert the school to charter status. Should the legislation be revived in the 2012 General Assembly?
Answer: One of the more interesting and troublesome school reform ideas floated during the 2011 legislative session was that of allowing parents to force a failing school to become a charter school by a simple majority vote.
As both a public schoolteacher and a public school parent, I only wish state officials were as interested in providing the resources necessary to help all students achieve as they are in accelerating their ability to take over public schools from local communities and turn them into charter or privately run corporate schools.
Actually, I am in favor of creating some action plans for schools that could involve parents and policymakers.
I would like to see an action plan for every school on the probation list. Those action plans would require the state to fully fund all-day kindergarten, proven reading programs, dropout prevention programs, fully equipped school libraries and a variety of learning programs to help all children be successful—including funding for music, art, foreign language and physical education.
I would also like to see an action plan that would help local schools meet the increasing costs of transportation for students. I am sure parents who are now being forced to pay fees for school bus transportation would also like to participate in those discussions.
If the state is so eager to put power in the hands of parents, why not create an action plan that requires real parental involvement in children's school lives, as well? Develop legislation that requires parents to help their children with homework, enforce reasonable bedtimes, provide hot and healthy meals, and maintain regular wellness visits to doctors and dentists.
I'd also suggest that a legislative action plan be created that would actually require policymakers to fully fund the standards they put in place more than a decade ago. Instead of decreasing state aid to schools by more than $600 million as the governor and legislators have done over the past two years, this action would take some of the state's current surplus and invest it in our future—our public schools.
It's disturbing to realize that a generation of Indiana students has passed through our public schools over the past 12 years—and not for one year during those students' school tenure did the state fund the standards it created and has enforced.
Of course, this proposed charter school legislation only appeared to give parents control of a school's fate—the legislation actually allowed parents only to petition the State Board of Education for such a takeover.
And the charter school magic bullet could also use a little examination at this point—the three highest-performing charter schools in Marion County enroll no non-English-speaking students and only a small percentage of special education students compared with the percentage of special education students served by Indianapolis Public Schools.
As a matter of fact, 60 percent of Marion County's charter schools report lower test scores than IPS despite serving few special education or non-English-speaking students.
Why do policymakers continue to tinker with a broad list of school reform ideas without dealing with the most important issue Indiana's schools face—adequate funding for all children to be successful and meet the learning standards?
It's time for state policymakers—from the governor to the state superintendent, from legislators to the State Board of Education—to hold up their end of the bargain (and their constitutional responsibilities) to provide the resources necessary for all children to succeed in their local public schools. It's important to remember that those schools sit in the heart of most Hoosier neighborhoods and communities.
That's one school reform effort that will work.•
__________
Meredith is vice president of the Indiana State Teachers Association and has taught for more than 18 years in Indiana schools. Send comments on this column to [email protected].
Please enable JavaScript to view this content.