An update to Indy's 10-year strategy to end homelessness calls for township trustees to allocate more of their property-tax revenue to the cause, and for taxpayers to adopt a dedicated sales tax of one-eighth to one-quarter percent.
A new source of funding isn't all that's needed to address the roughly 1,500 people who still sleep in shelters or on the streets, according to the draft strategy released Nov. 11 by the Coalition for Homelessness Intervention and Prevention, or CHIP.
"Blueprint 2" calls on well-meaning church and charity groups to stop delivering food directly to homeless camps. Professional outreach teams report that this enables people who may have addictions or mental health problems to continue living outside.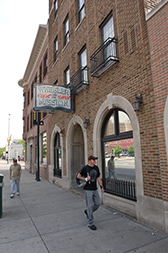 CHIP wants generous souls to support groups such as Wheeler Mission, instead of taking food to homeless camps. (IBJ File Photo)
Instead, CHIP suggests, people who want to help should volunteer at established organizations, such as School on Wheels, Trusted Mentors or Wheeler Mission Ministries. Other ways to get involved: provide tax preparation assistance; foster the pet of someone going into a shelter or treatment facility; pay for psychotropic medicines; pay for bus passes; fill out job applications or babysit so a homeless parent can look for a job.
CHIP is currently seeking warm blankets and clothing for the winter season. Donations can be dropped off at Wheeler Mission, 245 N. Delaware St.
Please enable JavaScript to view this content.