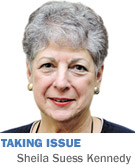 I've been following the Sunday series in the New York Times in which Ezekiel Emanuel—vice provost and professor of medical ethics at the University of Pennsylvania, and former White House adviser—has been explaining high health care costs.
I particularly appreciated this week's discussion, "Billions Wasted on Billing." My husband and I are at the age when doctor's visits become more frequent, and I have weekly opportunities to open envelopes to read incomprehensible jumbles of medical and financial jargon under the heading, "This is not a bill." Anyone having experience with mailings of any sort—bills, invoices, reminders—knows it is impossible to generate and mail anything for less than $5 to $7, once you account for clerical time, stationery and postage. I've never understood why the same not-so-informative information can't be included when the actual bill is sent.
Emanuel's column was not just about billing, but about all the other repetitive, duplicative paperwork that characterizes our health care system. How many times do we fill out patient forms with identical information? How many insurance claims must be completed in different formats by all those white-haired ladies in colorful smocks sitting behind the glass partitions in your doctor's office?
What does all this cost, and how much of it is really necessary?
According to Harvard economist David Cutler, electronic billing and credentialing could save the system upward of $32 billion a year. Transitioning to electronic record-keeping would pay other dividends, as well: It would allow medical providers to use existing fraud-detection methods currently used by credit card companies, and it would minimize the errors that are inevitable when data is manually entered. (No longer getting "This is not a bill" mailings would also have a salutary effect on my blood pressure.)
What Emanuel's column did not address is why medical insurers and providers have been so slow to adapt to the electronic age. I think a part of the answer is the complexity of what passes for a medical system in the United States—a complexity that also bedevils efforts to conduct reasonable policy discussions about health care in general.
We've all joked about the senior citizen at the town hall meeting who shouted, "Keep government's hands off my Medicare." It's true that most Americans do know Medicare and Medicaid are government programs. We know that taxpayers fund the (much-lauded) Veterans Administration.
But how many of us understand the extent to which government currently funds pharmaceutical and medical research? Or how much state governments contribute to the cost of medical education? To public health programs? How many of us know what local government units spend for everything from ambulance service to charity care?
I like to think of myself as informed, but I certainly don't know the answers to those questions. I was astounded a few years ago when, serving on an academic committee dominated by health care professionals, I learned that government at all levels currently funds 60 percent to 70 percent of all health care costs.
The real question isn't whether we should have a government system or a private one. We haven't had a private, market-driven system for decades, and for good reason. Markets require a willing buyer and willing seller, each of whom has the necessary relevant information and the ability to exercise choice.
The real question is how to identify the measures that will reduce health care costs and improve patient care and access. Right now, we pay 2-1/2 times what the next-most-expensive country pays for a system that ranks 36th in the world.
That's a bill we shouldn't have to pay.•
__________
Kennedy is a professor of law and public policy at the School of Public and Environmental Affairs at IUPUI. Her column appears monthly. She blogs regularly at www.sheilakennedy.net. She can be reached at skennedy@ibj.com.
Please enable JavaScript to view this content.