It would be tough to find a gallery transformation more dramatic than the one that occurs when the Eiteljorg Museum of American Indians and Western Art's annual Quest for the West show packs up and the biennial Eiteljorg Contemporary Fellowship show takes its place.
In the former, traditional artists offer images crafted largely for the art-buying market. That isn't to say there isn't vision and craft to spare in these pieces. There's always plenty to appreciate and admire. It's just that there's little that seems to be pushing the art forward. The ultimate goal is for the work to be seen, loved and purchased.
And there's nothing wrong with that.
Further, many of Quest for the West's 50-plus artists have work appearing year after year. Regular patrons may have trouble distinguishing what, if anything, is different about this year's work.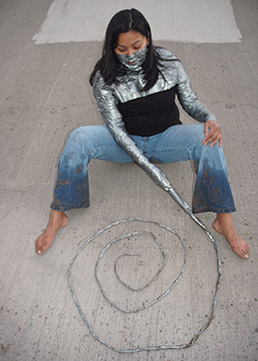 Anna Tsouhlarakis' "Legends II" combines myth, reality and a lot of duct tape. (Photo Courtesy Anna Tsouhlarakis)
And there's nothing wrong with that, either.
But the Contemporary Art Fellowship show is something very different. Each time around, in an effort to lead the field in today's Native American art, the Eiteljorg celebrates five artists showcasing very recent work. In addition to each artist scoring a $25,000 honorarium, the fellowship stipulates that the Eiteljorg buy work from each artist for its permanent collection.
And while it's easy to dismiss some Quest for the West artists, those chosen for the contemporary art fellowship aren't so easy to breeze over.
The current class, as showcased in the exhibition "We are
Here" (running through Feb. 12 at the Eiteljorg), is certainly a mixed group. And while I don't expect any of their work to stick with me the way Sonya Kelliher-Combs' did after the outstanding 2007 Eiteljorg show (you don't quickly forget floating walrus-intestine mittens), there's plenty to engage with here.
Most dramatically, there's Bonnie Devine's stark "Manitoba," featuring 62 body bags hanging in formation. There's a fascinating back story to this, included as part of the display, but I won't share it here. I don't want to trivialize it by putting a spoiler label on it, but I think that, independent of its true story, the witness/viewer has the luxury of filling in stories while walking around and through the work. The facts can come later.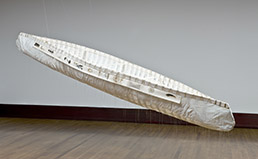 On close inspection, the material for Bonnie Devine's "Canoe" proves to be pages from a master's thesis on uranium mining. (Photo Courtesy Bonnie Devine)
Among other work, Devine is also represented with "Canoe," a suspended full-size canoe that, on closer inspection, reveals itself to be constructed from pages of the master's thesis on uranium mining. Does the academic context get in the way of the clearly intended environmental message? Perhaps. But the piece is impressive nonetheless.
Maybe I just didn't have the patience, but I was less engaged with Alan Michelson's HD video triptych "Of Light After Darkness" than I was with his "BecomeOne," which consists of five lightboxes of bright river images hung together to suggest a wampum belt. His quartet of culturally significant log cabins built from white paper, "Frontier Land," stands as a unique, open-to-lots-of-interpretations approach to history and architecture.
Duane Slick's work is more powerful the less specific it gets. The just-out-of-sight ghostly images of his "Shadow Portrait in Twilight" echo louder than the clear trickster coyotes juxtaposed with a crumpled American flag in the ironically named "Flag Pastoral."
Which leaves us with the two most in-your-face contemporary artists of the exhibition.
In her "Legends" series, Anna Tsouhlarakis seems to be attempting to create enigmatic, make-up-your-own-story photographic images that have one foot in the real world and another on some other plane. Holding the two together? Silver duct tape. The device is most effective in "Legends II," in which the tape becomes a curled, diminishing extension of the model's arm. It borders on the silly in "Legends VIII," in which the same model is joined by a dog, turning the intended mythical awkwardness into just plain awkwardness.
And what's a contemporary art show if questions aren't raised about art and technology? The one-named artist Skawennati works primarily in cyberspace and, in her TimeTraveller series (complete with TM mark), she creates a multi-episode world where people from the future can witness—but not actively participate in—incidents from the past. Hung on their own, images from the series look like little more than video games of a few years back. Online, well, I'll admit I haven't done enough exploring on that particular final frontier.
After closing at the Eiteljorg in February, the exhibition will travel to New York City and be unpacked for an exhibition at the Smithsonian National Museum of the American Indian. That's quite a coup for a museum identified more with the traditional than the groundbreaking.
____________
In most plays, a lack of chemistry between the leads can be fatal. So can an ending where the playwright keeps talking after his characters have already said what needs to be said.
But playwright Jack Canfora's "Jericho" at Phoenix Theatre survives both of these as well as a number of lesser problems in both production and play. The result is a compelling if a bit messy look at a woman who lost a partner in the World Trade Center attacks and at a man who survived.
The survivor actually proves the more interesting. I felt as if I'd seen Beth—the guilt-ridden spouse trying to restart her romantic life—before. But Josh—the survivor trying to change his life at the expense of family—felt more like an original creation. His pain felt more honest, his struggle more real. And, since I didn't know where his character would end up (and wasn't previously familiar with actor Richard S. Rand's bag of tricks), I was more drawn to his story.
Credit the playwright, too, with pulling his cast of characters together in a way that mixes both the inevitable (the explosive, revelation-spilling Thanksgiving dinner) and the surprising (a wrenching letter giving new perspective from the family matriarch). And kudos to director Bryan Fonseca for trusting the play and the audience enough to keep the two-hour show free of an unnecessary and potentially tension-diminishing intermission.
"Jericho" runs through Nov. 27. It's being presented as part of the National New Play Network's rolling world premiere, helping new plays get multiple productions in theaters across the country.•
__________
This columns appears weekly. Send information on upcoming arts and entertainment events to lharry@ibj.com.
Please enable JavaScript to view this content.