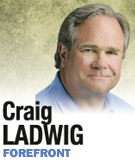 Here are two questions for you political analysts:
1) Why would anybody, Republican or Democrat, want to cut budgets "across the board?"
2) Why was an Indiana right-to-work law a low GOP priority last year and a high one this year?
There are answers—or more correctly, there are what economists call "stories" that seem to be answers.
First, though, let's consider a historic change outside the Statehouse, in that exotic place where Hoosiers actually live and work and where both actions and words have consequence. It is just this: In the midst of severe recession, reality trumps narrative.
Neither the Indianapolis mayor nor the Indiana governor gets that; each is still polishing his 2008 story.
Let's look first at Mayor Greg Ballard's re-election this month, a re-election utterly without mandate.
The Ballard campaign had what seemed a perfectly good narrative; i.e., a promise in the midst of a recession to make 10-percent budget cuts across the board.
But 10 percent only sounded like a real number. To achieve it, the mayor had to accept exclusions of federal and state grant money, single-year costs incurred in child welfare and township fire departments, debt payments amounting to about $273 million, and so forth.
By the time the accounting duels were finished, an argument remained that Ballard both broke his promise and fudged the numbers, claiming a 15.2-percent drop in spending but achieving only a 7.1-percent reduction.
Whatever, any cuts won't last long with a new and hostile City-County Council. Facts will have little to do with the political battles of his second term.
In fact, facts have had little to do with anything political in recent years. Veronique de Rugy of The Cato Institute cites a national study finding that nine out of 10 public-works projects exceed their initially estimated costs (their narratives). And when your accuracy falls below 10 percent, notes Rugy, you can be called a liar.
How different the mayor's position would be had he selected, Reaganesque, a municipal office for elimination—just shut its doors, not necessarily because it cost too much but because it did not serve a necessary function in this economy.
The mayoral election could have been about whether voters missed the missing bureaucracy—not about who had the trickiest narrative or the most compelling accountants. And that is a contest that principled Republicans, election in and election out, are likely to win.
Turning to Mitch Daniels on the issue of right to work, the governor's staff has developed an excellent narrative, even an artful one. It says that although a right-to-work law might have drawn jobs to Indiana last year, the stars weren't properly aligned.
What has changed? I'm looking hard at the public record if not the heavens, trying not to be cynical. All I can see that has changed are the shifting ambitions of politicians—that and a ruling class's vague sense the natives are getting restless.
How does that play in reality?
Not well, Republicans should fear. The correct position—that is, the "reality" position—is that passage of a right-to-work law is the right thing to do regardless of one man's ambitions of the moment.
Those of us sitting at our kitchen tables with big mortgages, high taxes and impossible student loans are coming to understand that the only property to which we can claim a right is the worth of our labor. We don't want it sullied, diminished or used as political coin by union leaders and legislative factions.
If the Governor's Office doesn't believe that—and it doesn't seem to be part of its narrative—then it is as the Democrats say: merely a partisan attack on the unions.
Tangentially, if Ballard sees all municipal functions as equally deserving and undeserving, then we all belong to the same political party.
Not exactly what you had in mind on the way to the polls, is it?•
__________
Ladwig edits Indiana Policy Review, a quarterly journal studying local public policy. Send comments on this column to ibjedit@ibj.com.
Please enable JavaScript to view this content.