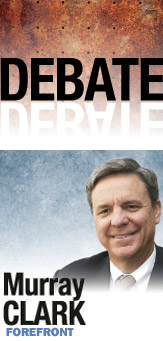 QUESTION: Who are the up-and-coming visionaries in Indiana politics?
ANSWER: As we approach the final year of Gov. Mitch Daniels' tenure, there may be no more relevant issue for Indiana Republicans than identifying who is among our up-and-coming thought leaders. Fortunately, Republicans have developed a deep bench.
Hoosiers throughout Indiana and outside the 6th Congressional district are experiencing the good fortune of meeting a familiar name under new circumstances. Mike Pence has been a thought leader since he was first elected to Congress, yet we will see him originating ideas that may lead our state for years to come.
Pence is defined by his decency and sincerity—key components in the policies we can expect to see him introduce over the course of his gubernatorial campaign. When he talks about "good jobs, great schools, safe streets and strong families," and an "even better Indiana," he is defining the core principles around which he'll champion a governing agenda for our state.
Across the country, education leaders are looking to Indiana and Education Secretary Tony Bennett for ideas that will reshape education in our country for the next decade. Since taking office in 2009, Bennett has provided a clear vision for Indiana's schools, breaking down the barriers that prevent our students from reaching their potential.
His ideas challenge the status quo by placing the priority where it belongs—on the students' best interests. Under his leadership, more Hoosier parents have great educational choices, school leaders have increased flexibility to innovate, and teachers will be better recognized for their efforts in the classroom.
Watching Indiana's four new congressmen this year has been particularly gratifying. Each is unwavering in the pursuit of less and more-responsible government and refreshingly unaffected by Washington.
Todd Young's first year is particularly noteworthy. Coming off a campaign that defined perseverance, he ascended to the House Budget Committee and made an immediate impact working with Chairman Paul Ryan to draft the 2012 budget—a document widely regarded as one of the most ambitious pieces of legislation to come out of Congress in many years. He has shown similar leadership on the House Armed Services Committee, where Chairman Buck McKeon named him to a Fiscal Management Panel tasked with helping the Pentagon develop its first auditable fiscal statement.
Last, Republicans had a huge election day on Nov. 8, picking up 15 mayoral seats and winning in traditional Democratic strongholds like Evansville, Portage and Jeffersonville.
From Jon Costas in Valparaiso—a transformative and innovative mayor who also has brought real, sustainable changes to his home; to Wayne Seybold in Marion—a tireless champion for economic development in his challenged city; to Duke Bennett in Terre Haute—whose common-sense, effective style earned him a 2-1 margin against a well-respected opponent; and certainly Greg Ballard right here in Indianapolis—whose political and mayoral achievements continue to amaze, we see Republican mayors whose leadership and management style exist as the triumph of good governance over partisan politics.
Creatively improving infrastructure, revitalizing downtown commercial districts, and redeveloping and reusing deteriorating assets—while remaining budget-conscious and fiscally disciplined—these are tough tasks under the best of economic conditions. Yet all four of these men and many other Republican mayors are pursuing aggressive and innovative solutions.
This list could easily be doubled, and after the election of 2012, it could even be tripled.
As our country debates the proper role of government in our everyday lives, Indiana Republicans have a team of leaders that will fight for smaller government, greater personal freedom and lower taxes while addressing the needs of their communities in an effective, straightforward and innovative fashion.•
__________
Clark, a lawyer at Baker & Daniels LLP, is a former state senator and chairman of the Indiana Republican Party. Send comments on this column to [email protected].
Please enable JavaScript to view this content.