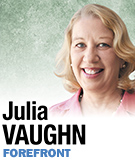 It is difficult to single out the worst thing about the controversy over new precinct boundaries and redistricting for the City-County Council. It seems as if outgoing President Ryan Vaughn (no relation to me) is determined to conduct this always-partisan process in a way that throws gasoline on the political fire while keeping the public in the dark and making its participation meaningless.
It all started last August when Vaughn signed a secret, no-bid $225,000 contract with a political supporter, attorney David Brooks, to draw new council districts with 2010 census data and make changes to precinct boundaries as required by a new state law. His actions and the sweetheart deal with Brooks raise a long list of red flags.
First, it is extremely unusual for the council president to enter into any contract for such a significant sum without informing his colleagues, much less without seeking competitive bids. What isn't unusual is that the no-bid contract went to a key Vaughn political supporter; after all, rewarding political allies with public contracts has become a time-honored tradition in Indianapolis.
Further, the re-precincting part of this exercise is a task that, by Indiana law, should have been conducted by the Mayor's Office. And, it appears that the Brooks/Vaughn effort went far beyond what is required.
According to a memo from the Marion County Clerk's Office, only one precinct needed to be altered to comply with state statute, but the Brooks plan changes about 130 precincts. And, there are real questions as to why Brooks was hired for this part of the job in the first place, since most counties will use county staff to draw new boundaries, with free assistance provided by the state.
Perhaps the boundary changes are rational and necessary, but the problem is that this exercise was conducted behind closed doors by a private contractor who, given his history as a political consultant and campaign manager, has a vested interest.
In 2007, Marion County reduced the number of precincts from 917 to 590, something long overdue. This process could have been a political firestorm but it wasn't, simply because then-Mayor Peterson conducted an inclusive and transparent process. That has not happened this time and it is no wonder people are suspicious about the impact of these changes on election administration and voters.
The normal course of events regarding redistricting would be to leave this job for the incoming council, since state law specifies that municipal redistricting should occur two years after the federal census. Of course that doesn't serve the political needs of Marion County Republicans, who lost control of the council in the November elections.
Forcing through new council maps before the end of the year looks like a desperate attempt by Republicans to improve their electoral odds in upcoming elections.
It also appears they would prefer to conduct this process without much citizen input, since they announced the public meeting schedule on Thanksgiving Eve, using the old political trick of releasing news when you know few people are paying attention.
Despite the ill-timed public notice, interested citizens have come out to ask questions and express concerns, but it isn't clear if this input will matter. Certainly, citizens have been given no access to mapping software to draw their own map examples. This is particularly disappointing since back in the mapping software Dark Ages of 2002, council Republicans made tools available and encouraged public submissions.
In addition to public software, a series of public discussions should have been held in all townships that gave citizens the opportunity to identify communities of interest and prioritize redistricting criteria. (For example, is compactness more important than competitiveness?) Only when this conversation was completed should draft maps have been offered and another round of public meetings convened.
This premature partisan tussle illustrates why elected officials should not be allowed to conduct redistricting. Until we get redistricting reform, we need someone to put a stop to the political game-playing.
Mayor, are you listening?•
__________
Vaughn is policy director for Common Cause/Indiana, a nonpartisan citizens lobbying organization that works for open, honest and accountable government. Send comments on this column to ibjedit@ibj.com.
Please enable JavaScript to view this content.