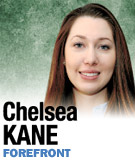 The Indianapolis Star ran an article in November touching on U.S. Rep. Mike Pence's to-date contribution haul toward his run for the Indiana governor's seat, a hefty portion of which has been gleaned from out-of-state donors. Democratic challenger John Gregg criticized Pence, saying, "You know what I tell myself when I see [a large contribution] from someone using their Washington, D.C., connection and getting all that out-of-state money from all those special interests? Those people writing those $100,000 checks can only vote once, the ones out of state can't vote at all."
The online article inspired nearly 200 reader comments. One questioned, "Why is it legal for any Indiana politician running for an Indiana political office to receive money from those who can't possibly vote in that state? When and how did we let this happen?"
I experienced a certain "ick" factor when I pondered how much outside funding Indiana candidates receive for their campaigns. Does it matter where, geographically, candidates receive their funds, and would it be more meaningful to accept only campaign donations from state residents? Should, or can, funding from out-of-state sources be limited or banned?
One might argue that campaign revenue, regardless of origin, fuels the exposure and momentum required to win elections. In the last three Indiana gubernatorial elections, the victor has been the candidate with the most money on hand. Conservative superstar Gov. Mitch Daniels' cash-on-hand exceeded his Democratic challenger's in 2004 and 2008; nearly 25 percent of his total contributions came from out-of-state sources in 2008.
Despite perceptions that money biases elections, there are more reasons to expand revenue sources than to limit them, not the least of which is the constitutionality of the topic.
The states were conceived to be petri dishes for political and legislative experimentation. Individuals, organizations and companies across the country and around the world have a stake in Indiana's solvency. Passionate contributors interested in supporting specific initiatives, ideologies or candidates should not be stifled.
The Occupy movement has taken up arms against corporate financing of campaigns. In response to opponents of corporate campaign finance: Corporations are made up of individuals—individuals with a stake in the success of persons and policies that aid them in being solvent, successful and stable. These qualities enhance hiring power—providing jobs, increasing revenue and, ultimately, funding community organizations, events and charitable causes.
Businesses with an interest in moving to Indiana or with ties to Indiana-based businesses should not be barred from supporting candidates who advance their goals. Generally, what's good for business is good for citizens, particularly Hoosiers and particularly when those businesses are profitable.
Third-party candidates can only benefit from wide sources of revenue as they struggle for a place at the table. Already, laws limit their participation. Support of measures limiting contributions further limits access and disenfranchises these groups.
Individuals with personal or business ties to a state or candidate should be able to contribute freely. We cannot judge the intentions of contributors nor should we. A citizen of Florida may formerly have been a resident of Fort Wayne or may be a future citizen of Indianapolis.
This brings me to a fundamental point—considering legislative bans on out-of-state contributions implies a desire to limit First Amendment rights.
Sen. Mitch McConnell famously said, "Our democracy depends upon free speech, not just for some but for all" and Justice Kennedy agreed with him in his writing of the Supreme Court's majority opinion in Citizens United vs. Federal Election Commission in response to the McCain-Feingold Act. Campaign contributions are a form of speech and should therefore be protected.
Republican gubernatorial candidate Pence is well-positioned and is already making huge fundraising gains. He will be a formidable candidate.
Gregg is painting Pence as crooked and dispassionate about Indiana because of his out-of-state fundraising numbers. Let us not forget Gregg's bold judgments when his own financial reports are filed in January.•
__________
Kane is a doctoral student in clinical psychology at the University of Indianapolis and a past president of the College Republicans at Indiana University. Send comments on this column to ibjedit@ibj.com.
Please enable JavaScript to view this content.