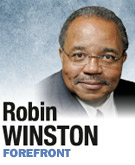 President Obama said it best: "Anybody who would doubt our prospects for the future, anybody who doesn't believe in the Midwest—have 'em come to Kokomo."
I look at my job in these columns to tout those members of our party who are doing the right thing for the right reasons. I am writing about Kokomo because while some tout Indiana as the "oasis of the Midwest," Kokomo is indeed one of our many stellar communities. Our party and Kokomo have the good fortune of having a dynamic, innovative and persistent mayor in Greg Goodnight.
I have known Goodnight for years and have always respected his drive and his absolute commitment to "put Kokomo on the map."
This year, his efforts were recognized by the Indiana Chamber of Commerce when it named Kokomo as Indiana's "Community of the Year." This is not an honor bestowed lightly. Like many things in his community, Goodnight and the residents won that award the old fashioned way—they earned it.
How did Kokomo change from a community on the brink of financial and employment collapse to the winner of the chamber's highest award?
Goodnight combines the attributes of Obama and Vice President Biden, who supported the automobile manufacturing industry during its darkest moments; he reflects the Bayh-O'Bannon traditions of our party by putting progress before politics; and like former Speaker John Gregg, he understands that building consensus makes a considerable difference in the ability to govern.
Look what Kokomo has done in the past few years.
At one point, Forbes named Kokomo the third-fastest-dying city in America. Coupled with a downturn in the economy, state-mandated tax caps and lower assessed values put a strain on local government budgets. The city's two biggest employers, Delphi and Chrysler, filed for bankruptcy.
Kokomo's unemployment rate increased from 7.4 percent in June 2008 to 19.2 percent in June 2009. In July 2009, the Howard County Sheriff's Department reported a monthly average of almost 70 home foreclosures.
Did those things deter the people of Kokomo and Goodnight? Probably somewhat, but their perseverance paid off. Instead of giving up, Goodnight and his team built partnerships with the people of Kokomo, leaders in private industry, higher education and with local economic development organizations.
Progressive members of our party believe that making government efficient and cost-effective is absolutely essential during tough budget times. Goodnight replicated that model and charged each city agency with streamlining services and reducing costs. He built on the best strengths of our party by developing alliances committed to retaining and creating jobs.
That meant keeping the small businesses open while traveling abroad to seek new business opportunities. It meant developing a revolving loan fund for businesses in the industrial and technology sectors, expanding low-interest loans for small businesses and even rent abatements for emerging small businesses.
Goodnight and his team realized that having solid infrastructure would enable businesses to invest in human infrastructure, thus creating more jobs. That's why over $21 million has been invested in new roads, renovations of the downtown public library, Americans with Disabilities Act-compliant curbs and sidewalks, street and sewer improvements, environmental designs and funds to renovate and repair homes in low-to-moderate income neighborhoods.
To improve quality of life the city invested in a community recreational facility and improvements to parks and walk paths. Building upon tangible partnerships, Goodnight and his team enlisted the support of private-sector donors for public art, beautification projects and renovation of a dilapidated little league baseball park.
The result? In addition to the successes mentioned earlier, over 6,300 jobs have been retained or created since 2009 in Kokomo, and Kokomo is on the rebound. Obama and the chamber agree on one thing—come to Kokomo. When you do, you will see an example of the kind of positive, consensus-building leadership that our Party needs to be successful in Indiana.
Former Gov. Frank O'Bannon would be proud and so should you.•
__________
Winston is president of Winston/Terrell Group, an Indianapolis-based government affairs, public outreach and community relations firm. He was chairman of the Indiana Democratic Party from 1999-2001. Send comments on this column to ibjedit@ibj.com.
Please enable JavaScript to view this content.