This time of year, it seems like this critic could book a few nights a week just with productions of "The Nutcracker."

But while I truly appreciate what cash cow Clara and company have done to help support dance companies, I have to protect myself from overexposure, which can breed un-Christmas-y thoughts.

As such, I limit myself to one and only one "Nutcracker" per year. This time out, it was the very loose adaptation created by No Exit Performance, a revised version of the one it offered (but I didn't see) last year. It runs through Dec. 17.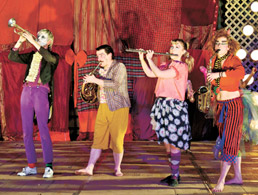 Looking for the absurd? Try No Exit's "Nutcracker," (Photo/Daniel Axler)
First, it's thrilling to see a new—or any—performance space in the otherwise artistically desolate area near Lafayette Square Mall. The new Service Center for Contemporary Culture and Community has turned a former tire shop into a flexible-if-rough-around-the-edges place for performing and visual arts.

No Exit specializes in the physical and the absurd, so I wasn't totally surprised that the audience was met in the lobby by Drosselmeyer (Ryan Mullins), who offered dirty cheese cubes from his pocket, led us through a gauntlet of stone-still performers in flamboyant costumes, and guided us to our seats in the ex-tire shop's former service area.

Then came high-spirited dance, a lesson in proper genuflecting techniques, a trio of dolls that audience members were assigned to care for,

a banana-eating man-child on a leash, a guy banging on the garage windows to get in, and a lot more that Tchaikovsky could never have imagined.

I was impressed by the spirited,

inventive dancing and much of the rest was clever and surprising. But the show remains underdeveloped. The plotlines of the two demented outsiders seemed forgotten in the final quarter. And Drosselmeyer, coming off like Borat playing the "Cabaret" emcee, overstayed his welcome in just about every lengthy monologue where he often seemed to be fishing for what to say next rather than being confidently absurd. I get Theatre of the Uncomfortable, but it's frustrating when redundancy gets in the way of something wonderful.

In all, this "Nutcracker" comes across less like its namesake ballet and more like a production of "Pippin" staged by people too cool to stage "Pippin." If Drosselmeyer's party had lasted about an hour and 15 minutes rather than two hours—or if the whole were as strong as its best parts—I'd be insisting you go. Whether or not this is your "Nutcracker" of choice, keep an eye on The Service Center and No Exit.
__________

Looking for something a little more conventional but still with a bit of naughty mixed with the nice? This year's edition of "A Very Phoenix Xmas" (subtitled "Our Goose is Cooked") may be your cup of Christmas tea.

This time around, the omnibus show starts off clunkily with a sketch called "Outsourcing Christmas" and hits a few rooftop potholes on its generally upbeat sleigh ride. But there's plenty at the Phoenix to make the spirits bright, including a monologue from a reindeer's randy wife, a loopy dance from a corps of sock monkeys that seem to have stepped out of an Ernie Kovacs routine, and a playful, show-ending sing-along to "Must Be Santa."

There's also strong singing in a handful of musical interludes and a lovely short playlet, "Uncle Charlie Sings," performed with sensitivity by the mix of accomplished players and relative newcomers. With No Exit and Theatre on the Square offering edgy holiday fair, it's not a bad thing that the Phoenix's holiday offering seems to be getting softer as it gets older.
__________

In "Yuletide Celebration" (through Dec. 23), the Indianapolis Symphony Orchestra and Pops maestro Jack Everly may well have the longest-standing, most popular holiday show this side of Radio City Music Hall. Few would complain if one year's show was only, say, 5 percent different from the previous year.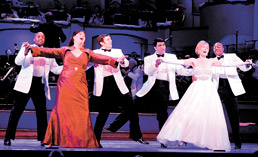 Want something more conventional? Then go for the Indianapolis Symphony Orchestra's "Yuletide Celebration," above, with co-hosts Ann Hampton Callaway and Liz Callaway. (Photo/Thomas J. Russo)
But every year there's something fresh—a new host (or, in this year's case, two), new songs, new arrangements, new jokes, new specialty acts. Plus, of course, the familiar favorites (the sleigh-and-reindeer puppets, the tapping Santas, etc.) reshuffled into the mix.

This year's hosts, sisters Liz Callaway and Ann Hampton Callaway, both accomplished vocalists and cabaret mainstays, don't get to sing much to their strengths (Broadway tunes for the former, scat-heavy jazz for the latter) in the "Yuletide" format, although both were in terrific voice in the preview I attended.

Highlights this time: The Symphony engaged with a Tim Burton-y "Carol of the Bells." Liz Callaway shined brightly with a tender "I'll Be Home for Christmas," Cirque de la Symphony acrobats added magical life to a toy shop scene, and dynamic singer Emily Drennan deserved semi-star billing for her joyful leads in "Santa Claus is Coming to Town" and a "Yuletide Jukebox" segment of songs from the 1950s, 1960s and 1970s.

Of course, it wouldn't be "Yuletide Celebration" without at least one awful outfit and the unfortunate victim this year was Ann Hampton Callaway, whose light-up tree dress and accompanying Marie Antoinette wig managed to pull focus from an aerialist's act above the stage.•

__________

This column appears weekly. Send information on upcoming arts and entertainment events to lharry@ibj.com.