The battle for supremacy among central Indiana's three sports-talk radio stations has become something of a runaway, though all the stations say they are profitable.
WFNI-AM 1070, which is newer to the format than its competitors, is grabbing the ears of far more listeners than either WNDE-AM 1260 or WXLW-AM 950. WFNI, owned by Indianapolis-based Emmis Communications Corp., has more than tripled the audience size of WNDE and WXLW combined over the last seven months, according to New York-based Arbitron Inc.
The reason for the success, said Emmis Market Manager Charlie Morgan, is a strong national morning lead-in show followed by an all-local sports-talk lineup.
WFNI, also known as The Fan, in some time slots is rivaling male-oriented music stations WFBQ-FM 94.7 and WRZX-FM 103.3. Those stations are owned by San Antonio-based Clear Channel, the same company that owns WNDE.
WFBQ's morning drive "Bob & Tom Show" still reigns supreme among male listeners, but WFNI has placed second in that time slot among men 25 to 54 years old in six of 11 months this year. In another month—September—it actually won the time slot in that demographic when the syndicated ESPN "Mike & Mike Show" beat "Bob & Tom".
"It all comes down to content, and right now [WFNI] has a really strong lineup," said Scott Uecker, communications instructor at the University of Indianapolis and general manager of WICR-FM 88.7.
Despite the competition, WXLW General Manager Randy Tipmore said his station has remained profitable by offering several popular ESPN programs.
"The Fan is who they are, but we feel we're offering something different," Tipmore said. "We don't spend one minute out of the month strategizing what they do versus what we do."
Rick Green, Clear Channel's local market manager, said WNDE is also profitable. He pointed out that, since August, when WNDE launched a new afternoon-drive show, the station's audience has grown 25 percent.
"It's a successful format in this market even with three sports-talk stations, because Indianapolis is such a strong sports town," Green said.
No women allowed?
WFNI's audience is more than 85-percent male, and while Program Director David Wood said the station doesn't do anything to discourage women listeners, it doesn't attempt to lure them, either.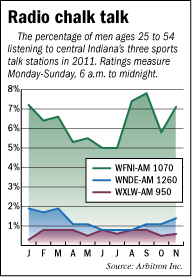 "Our target market is men, and it makes sense for us to stay focused on delivering that audience," Wood said.
In November, 9.9 percent of male listeners age 25 to 54 tuned in to WFNI in the morning, according to Arbitron. Only 1 percent of the same audience tuned in to WNDE and WXLW combined.
The "Grady and Big Joe Show" from 10 a.m. to noon on WFNI and Dan Dakich's broadcast from noon to 3 p.m. also lead their sports-talk competition.
The syndicated "Jim Rome Show" helps WNDE narrow the margin from noon to 3 p.m. During November, 5.8 percent of men 25 to 54 tuned in to Dakich, while 3 percent tuned in to Rome. Rush Limbaugh on WIBC-FM 93.1 is the No. 1 talk show with men during that time slot.
"That's the toughest three hours in local radio," Morgan said.
WFNI's dominance continues during the afternoon drive time. From 3-7 p.m., WFNI's "The Ride with JMV," hosted by longtime local sports-talk host John Gliva, scored a 9.2 share, tops among men 25-54.
JMV has widened his lead over WNDE since its afternoon host, Mark Patrick, departed July 20. Patrick was replaced by former WXLW host Derek Schultz and Jake Query, a broadcast veteran known for covering motorsports.
Clear Channel's Green is confident the audience for Query and Schultz will grow.
"We think these guys together are very compelling and offer a nice alternative to the one-person talking-head format," Green said.
Big financial gains
The strong ratings, Morgan said, have resulted in double-digit percentage growth in ad sales this year, but he wouldn't be specific.
If WFNI is growing at a double-digit pace, it's likely more than quadrupling the percentage growth of the market's other stations. In the last year, the radio market as a whole has seen ad revenue increase just under 3 percent, according to BIA Financial Network Inc., a Virginia-based research firm.
The top-billing Indianapolis stations typically bring in $15 million in annual ad revenue, according to BIA. Radio experts estimate WFNI will bring in more than $3 million this year, which would put it near the market's top 10 money-generators.
"I'm not surprised The Fan is doing so well," said Bruce Bryant, president of locally based Promotus Advertising. "They've put together a strong lineup and the market [WFNI] reaches is a highly sought-after one.
"Men in that age range generally have a high percentage of disposable income, and in many families they're the decision-makers," Bryant said.
But the group is a moving target, Bryant said.
"They're one of the most difficult audiences to reach. This is an audience without a lot of time and whose media consumption can be spotty," he said. "So if you can get a large number of them in one place at one time, it's a very lucrative audience to reach."
Morgan said WFNI has increased its profitability by adding new advertisers and bolstering revenue from existing ones.
Andy Mohr Toyota in Avon has dramatically increased sales since it began using JMV testimonials on WFNI in 2010, said Erik Spersrud, the dealership's general manager.
"We went from being the No. 35 or 40 Toyota truck dealer to No. 6 among 113 dealers in the Chicago-Indianapolis region," Spersrud said.
Andy Mohr Toyota also does television, print, Internet and direct-mail advertising, but uses only WFNI for radio.
"With trucks, we're really after that male audience, and in terms of radio, we don't think there's anyplace better to go," Spersrud said.
Traders Mill Grill & Bar at 5650 W. 86th St. has expanded its reach to places like Brownsburg, Greenwood and Martinsville since launching ads pitched by Dakich more than two years ago, said Cort Vanhowe, the restaurant's general manager.
"You'd be surprised by how many people come in here telling us they came in because they heard Dan Dakich talk about us on the radio," Vanhowe said. "We don't even give [Dakich] a script. The ads are all him. That way, it's a lot more authentic than a scripted ad."
Risky strategy
Emmis' former, market manager, Tom Severino, and Program Director Kent Sterling hatched the concept for The Fan in late 2007. It was part of a risky plan to move Emmis' popular news-talk station from the 1070 AM spot to 93.1 on the FM dial, where its top 40 music station had previously resided.
After Severino died in July, 2009, Morgan replaced him in August 2009. He wanted to rework the station, but had no interest in killing the sports-talk format on 1070.
"I think [WFNI] may have the most potential for growth among our Indianapolis stations," Morgan said.
When Sterling left his post as the station's program director in late 2009, Morgan brought on Wood, with whom he had worked before. Morgan and Wood set out to bring in—with the exception of Mike & Mike—an all-local talk lineup.
Morgan and Wood hired JMV and pulled Joe Staysniak—a former Indianapolis Colt—from WIBC's morning news show and paired him with Michael Grady in the late-morning show. Grady had been on WFNI in the afternoons.
"We figured we had a basketball guy with Dan and a football guy with Joe," Wood said. "Both of them have become really well-versed in all sports."
JMV, meanwhile, has more than doubled the audience size he had at WNDE, according to Arbitron. Some radio experts say that has a lot to do with WFNI's signal—which is stronger than that of WNDE or WXLW.
Uecker thinks WFNI is succeeding because it gives the central Indiana sports audience a "local platform that's never been available before."
As successful as it's been, Uecker noted that launching The Fan went against conventional thinking.
"For years in this format, the thought was syndicated programming was more cost-effective," Uecker said. "What The Fan is proving is, if you're willing to make the investment in local talent on the front end, it can pay off on the back end in a big way."•
Please enable JavaScript to view this content.