Recently, the Indiana Film Journalists Association monopolized a big table at Sahm's Tavern on a Saturday afternoon to argue about the best movies of the year.
Over mushroom caps and sliders, we weighed the relative merits of George Clooney and his "Descendants" vs. the silence of "The Artist." We opined on whether Viola Davis gave a leading or supporting performance in "The Help." We briefly discussed whether Andy Serkis qualified for Best Actor for his motion-capture-enhanced work on "Rise of the Planet of the Apes." And we positioned ourselves on either side of the pretentious/brilliant line when it came to "The Tree of Life."
While such best-ing might not be science, it sure is fun. We as a species love compiling lists, ranking the items on them, and lobbing insults at other people who create lists that don't match ours.
Such discussions are, of course, silly. Movies—like plays, music and visual artwork—aren't quantitative things. In his new book "Look I Made a Hat," composer Stephen Sondheim, in discussing such awards, cuts to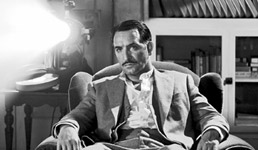 After picking up attention from the Indiana Film Journalists Association and other critics' groups, "The Artist" is now an Oscar front-runner. The IFJA picked it for Best Film of the Year. (Photo/The Weinstein Co.)
the quick: "Which is more satisfying," he asks, "an orange or a potato?"
It's tough to argue that question. (Although, if you want to, I'll take the side of the potato.)
There are other reasons to debate the merits of movies. The Indiana Film Journalists Association (of which I am a relatively inactive member) hopes to generate some pre-Oscar buzz for movies and their creators we deem outstanding. Encouraging excellence, after all, is a prime role of the critic. And there's been some traction on that: Google "Indiana Film Critics" or "Indiana Film Journalists Association" and you'll see dozens of blogs quoting and commenting on our choices.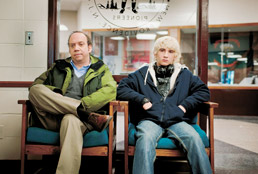 Paul Giamatti, left, gave a fine performance in "Win Win." (Photo/Kimberly Wright. 2010 Twentieth Century Fox)
And I personally hoped that some of the films screened at the Heartland Film Festival and the Indianapolis International Film Festival would merit praise by the group and garner wider attention. (In 2010, I lobbied hard for recognition for Hal Holbrook in "The Evening Sun.") Alas, while there were plenty of good films and performances in both fests this year, none that I saw transcended.
Each year before the mid-December conclave, I see as many films as possible so I can try to make convincing cases regarding my favorites. This time, I went in prepared to champion the movies that moved me most, specifically "The Tree of Life," "Win Win," "Coriolanus" (which has yet to play locally) and "The Artist."
On the acting front, I was most impressed with Paul Giamatti in "Win Win," Viola Davis in "The Help," Elizabeth Olsen in "Martha Marcy May Marlene," Ralph Fiennes and Vanessa Redgrave in "Coriolanus," Brad Pitt in "The Tree of Life," and Tilda Swinton in "We Need to Talk About Kevin."
I'd be lying if I told you I didn't have a negative agenda as well. I was happy to see that nobody in IFJA was pushing for "Crazy Stupid Love" (for me, the most infuriating movie of the year). More formidable was the force pushing for George Clooney and company in "The Descendants," a film that I thought had good moments but far too much forced quirkiness and over-explaining. It's practically captioned for the sensitivity-impaired.
The result, as in any good democracy, was a compromise. "The Descendants" did find its way to Best Adapted Screenplay and was runner-up for Best Film (In that category, we pick a winner, and runner-up, and eight more to round out a top 10). "The Tree of Life" got enough love, even from its detractors, to land the "Original Vision Award" and a Top 10 film spot.
Three of my acting choices placed (Giamatti, Davis and surprise winner Olsen), and I've got no complaints about the fourth (Christopher Plummer in "Beginners").
And Best Picture?
IFJA says it's the near-silent black-and-white charmer, "The Artist."•
__________
This column appears weekly. Send information on upcoming arts and entertainment events to lharry@ibj.com.
 
Please enable JavaScript to view this content.