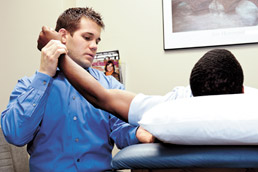 Physical therapist Joseph Hilbrich flexes a patient's arm at Body One Physical Therapy, which has been quantifying its patients' improvement during treatment. (IBJ Photo/Eric Learned)
When Brian Pease, owner of Body One Physical Therapy, asks physicians to refer patients to his practice, he no longer relies on his team's litany of credentials or patient success stories.
Now he tries to dazzle the docs with data. He trots out charts showing that average Body One patients see their pain subside and their function improve 30 percent to 50 percent.
Pease's number-crunching is a glimpse of the future of health care, which is moving toward systematically measuring—and financially rewarding—how much patients' health actually improves.
But whether the data bring financial rewards to Body One is unclear. Pease worries that referrals from physicians are beginning to slacken as more and more doctors become employees of hospitals, which request that doctors send patients to their in-house physical therapy practices.
Indeed, some health care experts are asking whether patient referrals from hospital-owned doctors to independent facilities will become a rarity as the consolidation of hospitals and doctors continues. If they do, it could render independent medical practices scarce.
The issue is particularly acute for physical therapists, because Indiana law does not allow them to see patients unless a physician first makes a referral.
"Our biggest threat is hospitals and physicians who own their own [physical therapy] practices," said Pease, who co-founded Body One in 2002. The 30-person practice now has two locations in Indianapolis, in addition to offices in Westfield and Zionsville.
Pease
It's getting harder and harder for medical practices to remain independent as overhead costs rise even as reimbursements remain flat. That has pushed a steady stream of physicians and other health care providers into the arms of hospitals over the past three years, both in Indianapolis and around the country.
In addition, the federal Medicare program for seniors—the nation's largest health plan—is giving bonuses and other financial incentives to health care providers who jointly take responsibility for the health of specific patients and successfully show that they deliver high-quality care at low costs.
That development, which has been mimicked by some private health plans, has fueled even more consolidation among hospitals and doctors.
Hospitals have been able to pay higher salaries to doctors than independent physician groups, in part because wrinkles in the reimbursement policies of Medicare and private health plans give hospitals more money for performing so-called ancillary services, such as lab and imaging tests.
Physical therapy is one of those ancillary services where the reimbursement differences are substantial. Pease said Body One receives average reimbursement of $85 per patient visit, whereas physical therapy at hospitals receives reimbursement of about $200.
Since the typical physical therapy patient comes for eight to 10 visits, Pease said, the savings could be $1,000 per patient.
"It's completely tilted," said Pease, sitting in a conference room of Body One's office on North Meridian Street. "So we're working hard to overcome that."
Request for referrals
Health plans pay hospitals more money than independent physician and therapist practices to compensate for unfunded requirements in federal law, which other health care providers do not face.
For example, hospitals must stabilize patients before referring them to another facility. Hospitals also must be open 24 hours a day. And hospitals must accept all government-sponsored health plans, such as the poorly paying Medicaid program.
But when hospitals acquire physician practices or other outpatient facilities, they don't start operating them 24 hours a day and they don't necessarily start accepting Medicaid patients. But they do start billing health plans under the auspices of the hospital, thereby collecting higher reimbursement payments while still enjoying the lower operating costs of physician offices.
Federal laws do not allow hospitals to directly reward physicians—even their own employees—for referring patients to other doctors or facilities owned by the hospital system. But they can ask—and they do.
St. Francis Medical Group, part of the Mishawaka-based Franciscan Alliance hospital system, includes provisions in its employment contracts that require doctors to refer patients to other providers in the Franciscan Alliance—except if a patient or a health plan requests otherwise, said Dr. Isaac J. Myers II, president of the medical group.
Exceptions are also allowed if Franciscan cannot provide care as soon as the patient needs, or if Franciscan doesn't have the particular specialist needed by the patient.
"It's under that understanding [doctors are] coming in to be part of the group," Myers said. "Timeliness, those things happen, but you try to make your best effort."
Such policies are common in hospitals' employment agreements with physicians, said Mike Heaton, a physician accountant at Indianapolis-based Katz Sapper & Miller. Referrals are key because they keep a hospital's operating rooms and beds filled with patients.
Fearing the future
It's unclear whether the recent proliferation of these agreements leads to a future where few patients are ever referred outside a hospital system, Heaton said.
"The question's being asked," he said. "I just think we can't answer it yet."
The answer was yes for Dr. Andrew Greenspan, president of Central Indiana Cancer Centers, which on June 1 entered a close partnership with the Indiana University Health hospital system. Central Indiana Cancer Centers sold its five facilities to IU Health and transferred its 150 employees to the Indianapolis-based hospital system, although the practice's 16 physicians remained legally independent.
Greenspan said a hospital partnership became essential because of hospitals' rapid acquisition of physicians, which caused more and more of those physicians' referrals to stay within one hospital system. IU Health Physicians now employs more than 800 doctors and Community Health Network has more than 550.
"It begins to threaten our referral base," Greenspan said.
Dr. Ben Park, CEO of American Health Network, has similar worries, although he hasn't seen referrals to his practice's oncologists and neurologists slacking yet. Like Body One, American Health has made significant strides in documenting patient outcomes, particularly for managing diabetic patients. But Park is unsure the data matter much in winning patient referrals.
"Physicians pay attention to [data], but I think most of them don't have a choice," Park said. "They have to use the physicians their hospital system tells them to now."
Pease said his data presentations have had some effect, leading to a 50-percent bump in referrals from the doctors afterward. Most of the doctors he pitched, however, were not part of a hospital system.
Since physicians' freedom to refer is being limited, Pease is mulling a consumer-focused campaign, pitching Body One and its superior results directly to patients, who could then tell their doctors to refer them to Body One.
Pease isn't sure what form that campaign might take. But based on the feedback of some of Body One's patients, he's confident it would have appeal.
For example, Anna Miller, who has received therapy from Pease off and on for nearly 15 years, says the fact that Body One is independent of hospitals is important to her.
"I appreciate that they're a free-standing place and not part of a big hospital system," said Miller, 78, who is retired from a career teaching nursing at Ball State, DePauw and Indiana universities. "This place is managed by [medical] professionals, not by a businessperson, so the professionals set the standard of care that they provide."
Miller also praised Body One for using physical therapy to help her avoid surgery for a cyst in her spine that flares up every few years, causing her pain and loss of motion in her legs.
"We feel like we actually save people a lot of time and money," said Pease, adding that he's going to share his data with anybody who will listen. "If we don't survive," he said, "I'm going to go down swinging."•
Please enable JavaScript to view this content.