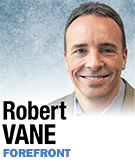 It was 10 years ago this month that Jim Kittle began campaigning for chairman of the Indiana Republican Party. What could not be known then, but is certainly known now, is that Kittle's election in January 2002 inaugurated one of the most impressive runs in Indiana political history.
How impressive? Beginning in 2002 and running though 2010, the Republican Party is 18-1 in elections for Indiana statewide and federal officeholders (the only blemish being Evan Bayh's re-election to the Senate in 2004).
An insurgent campaign featuring one of the party's most prolific fundraisers (read: irony), Kittle's election was certainly not a foregone conclusion. Clearly frustrated at having seen his party lose four consecutive gubernatorial elections, the Indianapolis furniture czar got his chance to run things his way.
Kittle's effort wasn't just about fundraising. Part of his appeal to the party faithful was his plan, called Blueprint 2002, which advocated for winning elections through better technology, better messaging and invigorating the faithful with a belief that the era of darkness was over.
For Indiana, as traditional a Republican state as any, to go through the amazing cycle of Democratic wins in the 1990s was something no political prognosticator would have predicted back when "Hot For Teacher" was in regular radio rotation.
Evan Bayh was re-elected governor in 1992 and then elected senator. Frank O'Bannon won the governor's office twice. Pam Carter and Jeff Modisett were elected attorney general. In 1999, Bart Peterson broke the 32-year stranglehold the GOP had on the Indianapolis mayor's office.
All these Republican losses … in Indiana?
But as the losses turned into victories, a new generation of Hoosier leaders began to emerge.
Mitch Daniels was a prominent, respected Republican leader long before December 2001, but his run for the governor's office was helped significantly by the organization and energy created by Kittle.
Beyond Daniels, many other prominent Republican leaders are making their mark in our state and our city.
Todd Rokita, elected secretary of state in 2002 in the Kittle Revolution's first big win, is now a congressman. Luke Messer, Kittle's executive director at state GOP, is poised to be our next congressman from the 6th District. Jennifer Hallowell, one of Kittle's first political directors, is the ultra-sharp architect of Mayor Greg Ballard's victorious re-election campaign. Tim Berry, our state auditor, is one of only five people in Indiana history to win four statewide elections.
The Indiana Republican Party's string of victories didn't end when Kittle stepped down in early 2006. In fact, one could argue it's never been more successful than it is right now—and with Eric Holcomb as chairman and Mike Pence as our all-but-certain gubernatorial nominee, I don't see our winning streak ending anytime soon.
Sixty members of the Indiana House of Representatives, 37 state senators, both U.S. senators, six of nine congressmen, the governor and lieutenant governor, all the statewide elected officials and the Indianapolis mayor's office—all Republican.
"It's clear that Jim's chairmanship had a significant impact on the Republican Party's performance during these past 10 years," says Ed Treacy, chairman of the Marion County Democratic Party. "He's a longtime friend and it's just a shame that he chose this path."
My former bosses at the state party, then-Chairman Murray Clark and Executive Director Kevin Ober, led a supremely talented group of post-Kittle leaders who have built on the fantastic turnaround that began 10 years ago.
"Jim Kittle and his new crew laid the foundation for the Indiana GOP becoming one of the most successful, sophisticated, admired party organizations in America," Clark says. "The tentacles of success that are a direct result of the changes beginning in 2002 reach far and wide, and as a result the Republican bench in Indiana is as deep as anywhere in the country."
You say you want a revolution? In politics, you won't find one more successful than the Kittle Revolution. My party, and Hoosiers, are better off because of it.•
__________
Vane, a U.S. Army veteran, has worked for elected Republican officials including Indianapolis Mayor Greg Ballard, and currently owns the public relations firm Veteran Strategies. Send comments on this column to [email protected].
Please enable JavaScript to view this content.