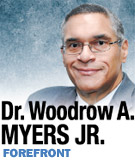 It's an amazing place. The people who work there are the most dedicated health care professionals I know. They take care of the patients nobody else wants to, or is able to care for. And they do it neither for the glory (which is in short supply) nor for the money (not a lot of that, either). They do it because it is the right thing to do and it makes them feel good to do it.
It is our hospital. It belongs to Marion County. Today the name is Wishard, but that will change.
Wishard was preceded by Marion County General Hospital, where I had my first emergency-room encounter at about age 8 when I stepped on a nail. I remember it clearly because I had to place my foot in a bucket of ice cold water mixed with Epsom salts. I asked the nurse why the water was cold. Her response: "because we ran out of hot."
That early experience motivated me to want to fix the health care system to make it equitable. Even at age 8, I knew the other hospitals, where my dad did not feel "welcomed" in 1962, had hot water.
In the 1980s, I used to spend Friday evenings in the Wishard ER, where I was allowed the privilege of teaching medical students, interns and residents. It was the place I could go to practice medicine as I was taught to do. I could witness firsthand the miracles modern medicine could achieve as trauma victims were saved and heart attacks were successfully treated.
Five minutes later, I'd witness tragic breakdowns in basic primary care in public health. I remember a young woman brought in by ambulance on one of those Friday nights. She was moaning with intermittent incoherent whispers as she was brought into the ward. We were told she had been using illicit drugs and that she had been "depressed."
Looking at her it was clear she was at least eight months' pregnant. It was hard to examine her and begin to sort through her many problems until we asked the police to remove her handcuffs, because she was also under arrest. She was 17. Her life could have ended that night, before it (and the life of her unborn child) had really begun.
So many things were wrong, but Wishard gave her another chance.
Most of our failures as a society end up in the emergency room, and in central Indiana that often means Wishard. One very hot summer night, an older woman was brought in to the Wishard ER with a temperature of 107. She had no close family, lived by herself, and her fan had stopped working. We surrounded her with ice packs, gave her chilled saline intravenously, and admitted her to the hospital. She survived.
That night, the taxpayers exchanged a $10,000 hospitalization for a $19.99 fan. We can do better.
Wishard does not require a card from Blue Cross or Medicare to walk (or be wheeled) through the door. It does not require a referral from your physician or health plan.
It is a teaching hospital that educates the best and brightest students from Indiana and the nation who have come to Indiana University to master the art and science of medicine, nursing and all the other health care disciplines.
I am proud that 85 percent of Marion County voters supported the construction of the new hospital. I am proud that Wishard employees have given more than $2 million of their own money and that major corporations and foundations have stepped up as well.
And I am completely blown away by the generosity of Sidney and Lois Eskenazi, who have donated $40 million and for whom the new hospital will be named. They'll never meet the 17-year-old girls Wishard will continue to save, nor will they meet the elderly patients who'll suffer heatstroke in the summer and hypothermia during winter.
But they have now ensured that an amazing treasure will remain amazing.•
__________
Myers is a former chief medical officer for WellPoint Inc. and served as health commissioner for Indiana and New York City. Send comments on this column to ibjedit@ibj.com.
Please enable JavaScript to view this content.