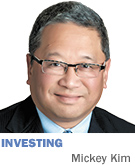 This is a popular time of year for stock market prognostications and other sooth-saying. I won't add to the cacophony, but every once in a while I come across timeless advice like Davis Advisors' "The Wisdom of Great Investors: Insights from Some of History's Greatest Investment Minds." It contains seven pearls of investment wisdom and can be found in its entirety here.
The preface to its remarks:
"During extreme periods for the market, investors often make decisions that can undermine their ability to build long-term wealth. When faced with such periods, it can be very valuable to look back in history and study closely timeless principles that have guided the investment decisions of some of history's greatest investors through both good and bad markets."
• Avoid self-destructive investor behavior. It is human nature to buy when things look sunny and sell when gloom is prevalent. But this is deadly to building long-term wealth. Dalbar Inc.'s March 2011 study "Quantitative Analysis of Investor Behavior" found that, from 1991 to 2010, the average stock fund returned 9.9 percent annually, but the average stock fund investor earned only 3.8 percent. On a compound basis, this "investor behavior penalty" was huge.
• Understand that crises are inevitable. Saigon fell on April 30, 1975, when the Dow Jones industrial average was at 831. My firm opened its doors the next day. Since then, it has endured the crash of 1987, the 1990s' savings-and-loan crisis and Long-Term Capital's implosion, the early 2000s' Internet bust, the recent subprime mortgage debacle, and now the European debt crisis. The skies were undoubtedly stormy on May 1, 1975, but with the Dow around 12,000 today, I'm sure glad our founders had the courage to pull the trigger.
• Historically, periods of low returns for stocks have been followed by periods of higher returns. Much has been written about the recent "lost decade" for investors. Unfortunately, such difficult periods have caused investors to throw in the towel and abandon stocks at precisely the wrong moment. How so? While past performance is no guarantee of future results, for rolling 10-year periods from 1928-2010, every period with an average annual return of less than 5 percent was followed by a satisfactory 10-year period (averaging 13 percent, with a low of 7 percent and a high of 18 percent).
• Don't attempt to time the market. Jumping in and out of the market is a costly exercise in futility. If you had invested $100 in the S&P 500 on Jan. 1, 1961, and left it alone, you would have had $2,164.24 on Dec. 31, 2010. However, if you had missed even the single best day in each of those 50 years, you would have only $398.97.
• Don't let emotions guide your investment decisions. As Warren Buffett said, "Be fearful when others are greedy and greedy when others are fearful."
• Understand that short-term underperformance is inevitable. Short-term performance is not a good predictor of long-term success. For the managers in the top quartile for the 10-year period ending Dec. 31, 2010, 93 percent had at least one three-year period where they were in the bottom half, 62 percent in the bottom quartile, and 31 percent in the bottom decile.
• Disregard short-term forecasts and predictions. As economist John Kenneth Galbraith said, "The function of economic forecasting is to make astrology look respectable."
My advice for 2012 is to print out the entire Davis piece and stick it in a drawer. Re-read it when the market tanks and the headlines and talking heads are screaming at you to "do something."•
__________
Kim is the chief operating officer and chief compliance officer for Kirr Marbach & Co. LLC, an investment adviser based in Columbus, Ind. He can be reached at (812) 376-9444 or mickey@kirrmar.com.
 
Please enable JavaScript to view this content.