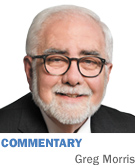 Happy New Year! I hope you had a joyful holiday season and were able to work in some down time for yourself. Sometimes the holidays are so busy and stressful you need at least a week to recover and get ready to attack the challenges of the upcoming year. Speaking of the upcoming year, I've been reviewing IBJ's offerings for 2012, and I'm excited to share some of them with you.
Of course you'll continue to receive the most comprehensive and in-depth business coverage in Indiana every week of the year. This will always be our priority. Ownership has smartly protected our award-winning journalists from the decimating layoffs experienced at most publications across the country. In fact, a recent review showed IBJ staffing rivals similar regional business publications in the largest cities in America. And that's the way we want it. You can't produce the best business news in the state and you can't be considered one of the top business journals in the country without great people.
In January, the Super Bowl commemorative magazine will be packaged with your Jan. 23 issue of IBJ. This is the promotional publication I've written about previously in this space. It's a collaborative effort of the 2012 Host Super Bowl Committee, IBJ, Indianapolis Monthly Magazine and the Indianapolis Convention and Visitors Bureau. I'm eager to get this one-of-a-kind publication in your hands before the Super Bowl. Please be sure to look for it.
You should also see a newly redesigned IBJ within 30 days. Our art department, along with input from our redesign committee, has done a great job designing the paper to be easy to read and navigate while giving it a fresh, modern look. The new design will also offer great flexibility to give the paper different looks, depending on the information that needs to be presented. More details about this effort will be forthcoming soon.
IBJ's most-talked-about new product in years—our Forefront supplement—will continue in 2012. Every week, someone says to me that they love Forefront and they've read it cover to cover. The positive comments come from business executives and folks in the political arena.
The popularity of this bimonthly feature continues to grow. There's no shortage of issues to discuss. IBJ's Forefront has offered more diversity of opinion on local, state and national political issues than any other news source, period.
We've got a lot more work to do. In 2012, Forefront writers will weigh in on an important gubernatorial election and a hotly contested presidential election. It will be another big political year with an unending parade of must-read topics. Right to work will no doubt be an ongoing topic, but I predict the mass-transit issue will take center stage. Read Forefront twice a month to stay in the know on these and many other important topics.
IBJ is, of course, more than just a newspaper. We produce up-to-the-minute business news daily via e-mail products, online at ibj.com, and on your mobile device. We'll continue to invest in the resources and technology necessary to provide news and information to you when, how and where you want to receive it. We'll also produce a minimum of 14 events in 2012 with the addition of our new Corporate Counsel Awards program.
You might not be aware that under our IBJ Media corporate umbrella, we publish the Indiana Lawyer and Court & Commercial Record. The Indiana Lawyer serves the legal profession statewide, and the Court & Commercial Record has been publishing legal notices for Marion County for more than 100 years. We also operate a custom publishing division that boasts three highly regarded education-related publications, all targeting different age groups along the education continuum. Those publications are Next Indiana; a Guide to Life After High School for soon-to-be high school graduates, Grad Magazine for soon-to-be college graduates, and Think Future Indiana; the Resource for Advancing Your Career.
Finally, we have a book publishing division. Do you have a book in you? If so, IBJ Book Publishing can take you through the writing, editing, layout, marketing and distribution process. Maybe 2012 is the year you finally get that book written you've been talking about for years.
It's going to be another exciting year. Thanks for reading and investing in IBJ.•
__________
Morris is publisher of IBJ. His column appears every other week. To comment on this column, send e-mail to gmorris@ibj.com.
Please enable JavaScript to view this content.