After spending most of 2011 as a Wall Street darling, the year ended ugly for Endocyte Inc. But CEO Ron Ellis thinks the West Lafayette-based drug developer is in better position than ever.
Endocyte staged a $75 million initial public offering in February, saw its stock price more than double by July, then raised another $67 million in a second stock offering in August. But then the company was abandoned by investors in December after releasing mixed clinical trial data for its experimental ovarian cancer drug.
"I feel a little unloved," Ellis said in an interview in late December, after Endocyte's share price had collapsed nearly 70 percent in just two days of trading. It has yet to recover.
Endocyte CEO Ron Ellis thinks investors overreacted to recently released clinical trial data.
But Ellis remains upbeat that Endocyte can win European approval for EC145, its leading drug candidate. Endocyte had planned to file with European regulators in early 2012, and Ellis said it is sticking to that plan for now.
Meanwhile, five members of Endocyte's board and management team moved to restore confidence in the company's stock, collectively buying 666,000 shares in late December, at a total cost of $2.1 million.
The biggest buyer was Fred Middleton, managing director of California-based venture capital firm Sanderling Ventures, who poured $1.6 million into Endocyte's stock.
"We're very optimistic about the drug," Ellis said. "No one I've talked to—even those that have sold positions—believes the drug doesn't work."
Endocyte has both believers and doubters on Wall Street.
"The reaction is way too harsh and presents an unexpected buying opportunity in a high-quality U.S. oncology player," wrote Robin Davison, an analyst for U.K.-based Edison Investment Research, in a Dec. 15 research note.
But other analysts said investors were right to dump the shares, at least for now.
"We think the chances of a European conditional approval are essentially nil," wrote Christopher Raymond, an analyst for Baird Equity Research in Chicago, in a Dec. 16 research note. He advised investors to sell and see what happens.
Conditional approval of EC145 means the European Medicines Agency, an arm of the European Union, would allow the drug to hit the market based on results of its Phase 2 clinical trial, rather than the more customary wait for results of a much larger and time-consuming Phase 3 clinical trial.
European regulators are willing to do this for EC145 because it is aimed at ovarian cancer patients who have not responded to traditional platinum chemotherapies—which represents a significant chunk of ovarian cancer patients. In addition, it has been more than a decade since there has been a new drug approved for ovarian cancer.
But the European Medicines Agency wants Endocyte to at least be enrolling patients in a Phase 3 trial before it approves EC145—so it can re-evaluate whether the drug should remain on the market.
Problems arise
Endocyte began enrolling patients in a Phase 3 trial in 2011 and was ahead of schedule when a shortage of the existing drug Doxil, made by New Jersey-based Johnson & Johnson, forced it to halt the enrollment of new patients.
Until the Doxil shortage ends—and there's no sign of that yet—Endocyte cannot meet the demands of European regulators. Endocyte hopes to get around this problem, in part, by launching a new Phase 3 trial, comparing EC145 against the cancer drug Taxol. But European and U.S. regulators still have to OK the new trial.
The Doxil problems already had investors uneasy when, on Dec. 13, Endocyte unveiled a new statistical analysis of its Phase 2 clinical trial.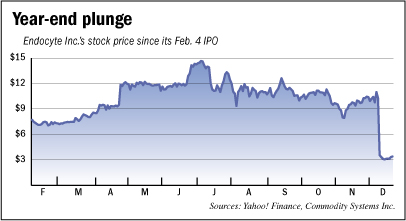 That analysis showed that patients taking EC145 in combination with Doxil actually survived for a shorter time than patients taking Doxil alone. The first group had a median survival rate of 14.1 months, compared with a median survival rate of 16.9 months for the Doxil-only group.
The results were perplexing, especially since no previous clinical trial of ovarian cancer patients had shown overall survival rates—for any group of patients—higher than 13.5 months.
Endocyte officials emphasized that the clinical trial was not designed—nor did it enroll enough patients—to demonstrate overall survival. Instead, it was geared to look at the length of progression-free survival patients experienced on EC145.
But investors were spooked nonetheless, sparking the stock sell-off. They figured the results would lead European regulators to take the same position as the U.S. Food and Drug Administration—that Endocyte must submit data from a Phase 3 clinical trial before EC145 can be approved.
Ellis acknowledged that such a move by the European regulators is a possibility, but he also emphasized that EC145 has shown few safety issues and would treat a patient population with a dearth of effective treatments. Given those factors, he said, regulators' threshold for a drug demonstrating benefits tends to be lower.
"People's assessment that this data made an EU filing nil is probably a little pessimistic," Ellis said.
Ellis emphasized that European regulators have expressed a willingness to approve EC145 based on its ability to extend progression-free survival in ovarian cancer patients. Earlier results from EC145's Phase 2 trial showed that EC145 improved progress-free survival more than 85 percent when compared with patients taking Doxil alone.
But the new analysis proved problematic on that point as well. Whereas Endocyte's original Phase 2 trial results showed a statistically significant improvement in progression-free survival for all ovarian cancer patients, the new analysis showed a statistically significant improvement for only about 25 percent of patients.
The patients who benefited were those with cancer cells that have an abundance of folate receptors. EC145 is formulated by combining a molecule of folate (also known as folic acid) with an especially powerful chemotherapy agent. The drug is consumed hungrily by cancer cells, which have lots of folate receptors, but generally does not enter healthy cells.
The fact that only this subset of patients showed a statistically significant benefit could reduce the commercial potential of EC145.
But if EC145 is shown to be highly effective in only a subset of patients, Ellis countered, that can only be a good thing, since regulators have increasingly pushed drugmakers to use genetic factors to identify only the small group of patients that will truly benefit from a new drug.
"That was the point of study, to prove that we could provide a personalized therapy," Ellis said.
Endocyte was able to do that by using an imaging agent—called EC20—that lights up tumors that have lots of folate receptors when a patient receives a CT scan. The data released Dec. 13 showed that EC20 allowed doctors to accurately separate patients into three groups—lots of folate receptors, some receptors and no receptors—85 percent of the time.
The significance of those results is that Endocyte, which is using the same folate-receptor concept to develop drugs for other cancers, can now use EC20 in its other clinical trials. In short, it validates Endocyte's strategy to launch not just one cancer drug, but a series of cancer drugs.
The technology is still clearly valuable, even if investors are no longer giving Endocyte any credit for it, wrote Wedbush Securities analyst Gregory Wade in a Dec. 14 research note.
"We view the severe decline in [Endocyte] shares to levels that imply nearly no technology value as a significant overreaction by the Street," he wrote.
Wade figures the clinical trial data won't cause problems with European regulators at all, but that the Doxil shortage could delay its approval by six months. He still expects to see EC145 on the European market in the third quarter of 2013.
Ellis won't speculate on when the drug would hit the market, but he said the recent clinical trial data only confirms that EC145's benefits are real, and will eventually propel the drug to market.
"For patients and the company," he said, "this is a major milestone that we've achieved."•
Please enable JavaScript to view this content.