The hippie movement had Haight-Ashbury as its nucleus. For disco, it was Studio 54.
And today, a growing number of startup enclaves are clustered around trendy venues where entrepreneurs work, share ideas and socialize.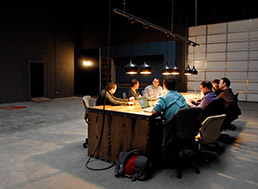 Organizers of Speak Easy, a meeting place for entrepreneurs that opens Jan. 18, met in the space recently to plot its future. (IBJ Photo/Perry Reichanadter)
This month, Indianapolis will open one of its own. A group of angel investors, entrepreneurs and high-tech aficionados on Jan. 18 will launch the Speak Easy, a 5,750-square-foot space at 5255 Winthrop Ave. on the southern edge of Broad Ripple. It will serve as a gathering place for those active in the startup community, or, as co-founder Kristian Andersen put it, a "Moose Lodge for geeks."
"Movements are usually associated with physical locations," said Andersen, a local entrepreneur and angel investor. "In the startup world, place is very important. The fact that people work from home in their pajamas, it becomes even more important they can connect."
The space–like its counterparts in Boulder, Colo.; New York; and San Francisco–is designed to increase the number of startups in Indianapolis by forging connections among those working on them. Founders hope it also will help raise Indianapolis' profile as a creative, startup-loving city, and thereby draw more talent here.
But unlike co-working spaces in some other cities, Speak Easy will operate as a not-for-profit. Helping subsidize costs will be $200,000 that's already been raised from veteran entrepreneurs such as ExactTarget co-founder Chris Baggott and Interactive Intelligence co-founder Don Brown. Funds also have come from Develop Indy, the city's economic-development arm, and the Central Indiana Community Foundation plans to contribute in 2012.
Speak Easy members, selected through an application process, will pay an annual fee. Young entrepreneurs with smaller salaries will pay $250 per year, while more seasoned businesspeople with larger incomes will pay $500 annually. That compares with as much as $500 a month for venues such as New York's Grind. In exchange, they'll get 24/7 access to an industrial-chic space and amenities such as common areas, conference rooms, keg beer and a video game station.
Boosters of the space say it has potential to fill a void in Indianapolis by providing a better place to work for entrepreneurs now toiling in coffee shops and basements.
But it also fosters a less-tangible phenomenon: connections between the software developer and marketing guru, or the seasoned entrepreneur and the young upstart—none of whom would have been brought together in the absence of a common gathering point, founders say.
"For me, it's about connections," said Tony Monteleone, a local entrepreneur who quit his full-time job last spring and is working on his second startup. "You can have the brightest idea and be a true rock star at what you're doing. But if you don't know the right people or groups to give you the funding, you're not going to get anywhere."
Speak Easy's evolution
Andersen had been in talks with others in the startup community for more than a year about the need for such a venue.
Then, in late 2010, DeveloperTown LLC, a company that develops Web-based software and mobile applications for upstart technology ventures, found a site where it could expand: a 35,000-square-foot building formerly used by a carbon distributor.
The building was large enough to house not only the growing DeveloperTown, but also a few other startup-serving companies and startups, as well as the Speak Easy.
While the organizations remain separate, they benefit one another by bringing like-minded people under one roof, said Nathan Altman, who helped find the space as a partner with DeveloperTown.
"The idea is trying to get a bunch of smart people in one room," Altman said. "The whole project is that way."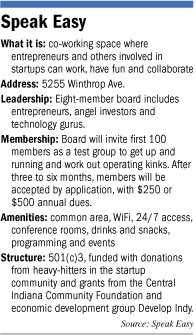 Such spaces are proliferating in startup hubs across the country, said Brad Bernthal, director of the entrepreneurship initiative at the University of Colorado at Boulder's Silicon Flatirons Center, which works to promote student interest in entrepreneurship and technology law.
Some serve as accelerators, where organizers hand-select companies to receive funding or technical support in exchange for equity. Incubators provide a similar service but in a less formalized way and often on a looser time line.
The Speak Easy is neither of those, but rather a collaborative workspace, where entrepreneurs in any phase of an early-stage startup can work.
The bar for membership will be low, Andersen said, though it's not for high school students or salespeople looking for a crowd to whom they can market products. The first rule, in fact, is that you don't hand out a business card unless you're asked for one.
Some important logistical questions remain unanswered. For example, it's unclear how much operating costs will be and whether the space will demand paid staff or can operate with volunteers.
To determine those things, the eight-member board initially will launch Speak Easy with limited capacity. About 100 members will be invited to join for the first few months before the application process officially opens.
If all goes well, the space soon will hum with teams of people working on projects, while some take a break at the espresso bar and others participate in one of the semi-regular programs—a workshop on how to attract venture capital, for instance—that will take place at the venue.
Economic development case
Getting buy-in from groups such as Develop Indy meant selling people on the notion that such spaces breed startup activity.
Bernthal, the Boulder expert, said the co-working phenomenon is too new to study its impact over time. But he said powerful anecdotal evidence suggests such collaborations foster information-sharing and an entrepreneurial culture that helps startups flourish.
He said it will be particularly critical for the space to become a "nerve center," where mentoring relationships among seasoned entrepreneurs and young upstarts develop.
"A rich body of scholarship shows that when it comes to entrepreneurship, the world is not flat. There are advantages associated with the concentration of entrepreneurs," Bernthal said.
"There are powerful benefits to being associated in an innovative environment and being able to leverage the talent and experiences of those around you."
Of course, such rampant information-sharing raises questions about whether co-working spaces foster too much collaboration—in a way that might ruin a fledgling company's competitive advantage.
But Bernthal said startups' niches tend to be so focused that few see one another as direct competitors. He said they often find the value of shared information outweighs concerns about competition.
Monteleone can attest to the importance of having a common space.
After he left his full-time job to work on his first startup, he and his six-person team struggled to work odd hours in his basement with his family upstairs.
The new space will provide a place that fosters productivity, but also creates pride in being part of a shared interest and lifestyle, he said.
"I didn't know there were so many people in the city that think and believe the way I do," Monteleone said.
"It's kind of like saying, 'Now we're at a place where Indianapolis is growing so much in the startup community, we need a place for entrepreneurs to go.'"•
Please enable JavaScript to view this content.