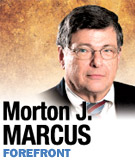 Billy Bygone is an ardent follower of political news on Fox and MSNBC. Like a fanatic football fan, he spends hours anticipating and analyzing who's ahead in the preliminaries to the primaries. He has the latest line on who comes out ahead in a hypothetical meeting of the Ganders and the Drakes. He has the inside dope on whether the Nerds will side with the Automatons or throw their support to the Handcrafters.
Thus it is no surprise when I meet Billy in a neighborhood tavern that he is deeply depressed.
"What gives?" I say cheerfully.
"The Indiana Legislature again," he moans. "They don't have the courage to do the right thing."
"What would be 'the right thing'?" I ask.
"You know," Billy sighs. "They are going to take up the right-to-work thing."
"Yes," I say.
"That's all well and good," he pronounces, "but they're not going far enough. It's time to have a showdown with the unions and their left-wing sympathizers. We should take on more of the restrictive labor legislation that keeps folks from having jobs."
"Left wing," I say in amazement. "I didn't think there was a left wing in the United States and certainly not in Indiana. Unions aren't left-wing today. They are part of the establishment. Their interests and the interests of big business coincide more often than not."
"Nonetheless," Billy says, "right-to-work is a matter of freedom for the worker to choose, to have self-determination. Take the minimum wage. It, too, keeps good people from having jobs. For example, the minimum hourly cash wage in Indiana for restaurant workers who depend on tips is $2.13. Some baffle-brained liberals want to raise that to $5 per hour.
"Can you imagine what a more-than-doubling of the minimum wage would do to workers in restaurants, to the owners and customers of those restaurants? It would cut employment like a butcher's cleaver. Owners would be pushed to the wall, and many would close. That reduces choice for consumers and means lower-quality service at the remaining establishments."
"Get real," I reply. "What's the difference between $5 and $2.13 per hour? It's all of $2.87. Now spread that over, say, 10 diners per hour and you are down to fewer than 30 cents added to each customer's bill. How much is 30 cents today when it costs a dollar or more to get a cup of coffee?"
"Then there's the Davis-Bacon Act," Billy says, ignoring my argument. "It's an outrage from 1931 when Herbert Hoover was president. It requires workers on federally subsidized construction projects be paid the 'prevailing wage' of the area in which the project is located. It turns out the 'prevailing wage' is a union wage.
"This just raises the costs of infrastructure projects to all of us as taxpayers. Davis-Bacon reduces the demand for labor and encourages the use of machinery to do a job a person could do. It's a law that discriminates against people."
"Discriminates?" I reply, but Billy interrupts.
"Another smart thing the Indiana General Assembly could take up would be child labor laws. We've made working safer, less demanding, more productive," Billy says. "Why can't kids, nimble by nature, do the construction work that takes its toll on older workers? If parents permit … "
Now it's my turn to interrupt. "Parents? Are you daft? Many parents would joyfully let their 14-year-olds become roofers, if it meant more money for meth."
"More money for meat on the table and medicine in the cabinet," Billy says.
"Most of what you want to change," I say, "is established by federal legislation adapted to state-level conditions."
"And what's wrong with nullification, turning our backs to the federal law, as they did in Arizona and Alabama on immigration?" Billy asks.
"Seems to me," I say, "we had a Civil War over that."•
__________
Marcus taught economics for more than 30 years at Indiana University and is the former director of the university's Indiana Business Research Center. Send comments on this column to ibjedit@ibj.com.
Please enable JavaScript to view this content.