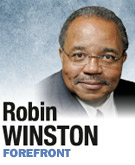 Some people spent so much time analyzing the re-election of Mayor Greg Ballard in 2011 that they overlooked a continued phenomenon here in Marion County. Once regarded as the bastion of Republican votes in Indiana, Marion County continues to trend more and more Democratic each cycle.
Home to the legendary Keith Bulen and the linchpin of the political careers of Richard Lugar and Mitch Daniels, Marion County is no longer the same. In fact, it is interesting to note that Republican strategists put a premium on the Indianapolis suburban counties when devising strategies to win statewide.
To those of us who were political science majors, studying the trends and demographics associated with Marion County politics is absolutely essential. Just consider:
• Then-Lt. Gov. Frank O'Bannon won Marion County by 18,000 votes against then-Indianapolis Mayor Steve Goldsmith in 1996. Four years later, he would win Marion County by 54,000 votes against David McIntosh.
• In 1997, Bart Peterson became the first Democratic mayor elected after the start of Unigov.
• Barack Obama won Marion County by 107,000 votes against John McCain.
• Democrats won every county-level elected office in 2010. In fact, 14 of the 15 county-wide offices are now held by Democrats and 118 Democrats are elected here in Marion County.
• In 2011, Democrats won control of the City-County Council and won all four at-large seats that were contested countywide.
So, what is the impact of Marion County on the races for president, governor, U.S. Senate and Congress in 2012? The Marion County Democratic Party, ably led by Chairman Ed Treacy, will play one of the key roles in Democratic fortunes on Nov. 6. Marion County, combined with Lake County, will provide almost 25 percent of the statewide votes cast and for Democrats, will be an even higher percentage.
The 2012 races for president, U.S. senator and governor could be close. Initial polling suggests that Obama will have another battle to hold Indiana in his winning column. Congressman Joe Donnelly awaits the winner of what is becoming a contentious Republican primary for the Senate. And former Speaker John Gregg is ready to mix his knowledge of state government and southern Indiana roots to become Indiana's next governor.
The campaigns of Obama, Donnelly and Gregg all must rely upon substantial majorities from Marion County or their road to success will be even tougher.
In 2011, we witnessed what happens when Republicans cut into the Democratic margin in Marion County. In spite of running a strong campaign with a well-developed outreach plan and with adequate media support and a well-prepared candidacy, Melina Kennedy could not counter the appeal to many Democrats of incumbent Mayor Greg Ballard.
Ballard ran ahead of the top Republican candidate for City-County Council and made inroads into the Democratic base by developing a game plan that was atypical from many national and statewide Republicans.
Our statewide candidates should review past performance numbers when developing game plans for winning Marion County in 2012.
For example, it is absolutely essential to work in a coordinated effort with local and Congressional campaigns to generate straight-ticket Democratic votes.
In 2010, straight-ticket voting for Democratic candidates in Marion County registered at 79,000 votes. In 2011, those voting a straight ticket for Democratic candidates in our county dropped to 61,000 votes, or 18,000 less than 2010.
To be successful in 2012, our Democratic candidates need to return to the 2008 straight-ticket levels of 134,000 votes. Obama, Donnelly and Gregg will need those votes to win.
When you look at a map of Indiana, Indianapolis is clearly at the center of the state. For our statewide candidates, Marion County's Democratic Party and voters are the true center of a winning strategy.
Here's one undeniable fact: No Democrat in recent history who has won statewide (O'Bannon, Bayh, and Obama) did so without carrying Marion County.•
__________
Winston is president of Winston/Terrell Group, an Indianapolis-based government affairs, public outreach and community relations firm. He was chairman of the Indiana Democratic Party from 1999-2001. Send comments on this column to ibjedit@ibj.com.
Please enable JavaScript to view this content.