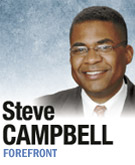 As deputy mayor and communications director for the Peterson administration in 2005, it was my job to sell the idea of a new stadium and convention center expansion. This was pre-Facebook, Twitter and YouTube, so we had to do much of this public lobbying with strong arguments and shoe leather. As a result, we met with dozens of civic and neighborhood groups, chambers of commerce across Indiana and conducted countless media interviews.
Our argument was simple: Thousands of jobs would be created and supported and billions of dollars would be invested in our city. We would keep the Colts for 30 years, be on a regular rotation for NCAA Final Fours and expand our successful convention industry.
All were exciting, but the one benefit that caught my fancy was the chance for Indianapolis to host the Super Bowl.
Shortly after the stadium and convention center were approved, I penned a memo to Peterson and Fred Glass, then president of the Capital Improvement Board and (now athletic director at Indiana University), suggesting how to get the ball rolling on our Super Bowl plans. The first step was contacting the NFL.
In the summer of 2006, Glass scheduled a trip for us to meet with the NFL in New York to discuss our plans. At the last minute, he had a conflict that would keep him home, but he insisted that I go on without him.
Scared to death to make this trip alone, I headed to New York to meet with Frank Supovitz, the NFL exec who oversees the Super Bowl. As the first emissary from Indianapolis to state our intentions to the NFL, I was understandably nervous as I landed at LaGuardia, took a cab to the NFL's Park Avenue office and stepped off the elevator to see 32 helmets and the words "The National Football League" emblazoned on the wall behind the receptionist.
I knew this was big, but when those elevator doors opened, I started to understand how big.
In this media-driven world, the publicity that comes from the entire world focusing on our city is nearly unprecedented. Indianapolis has been introduced to the world from our first 500-Mile race in 1911 to the Pan Am Games in 1987. But this re-introduction in February should prove to be the grandest of them all.
In my mass communications class at IUPUI, I tell my students about media in my formative years in the 1970s and '80s.
I remind them that the generations preceding theirs grew up with only three television (or radio) networks.
I tell them that when Cosby debuted on NBC or when Michael did the first moonwalk ever, every kid in my school (even most of the teachers) had watched it.
I told them that my brothers, with whom I share the same exact genetics and upbringing, barely watch the same television shows or listen to the same music.
There are just so many media options today that we have become what I call a "society of niches," where anyone can focus on solely the issues, interests and information they select.
Any more, there is but one event that all of America sits down to experience together, and that is the Super Bowl. Emblazoned across all of this year's coverage will be one common thread: "Indianapolis."
If we were to simply try to purchase all the advertising time in the world to sell the Indianapolis message, it still probably would pale in comparison to the attention we'll receive in a few weeks.
Most people locally will focus on the many practical benefits of hosting the Super Bowl—the visitors, the money they will leave behind, the near-east side's much-needed facelift and the chance for thousands of Hoosiers to see this worldwide event firsthand—all of which are important.
But in today's "attention economy," the Super Bowl may be the best buzz Indianapolis has ever had. In the words of the popular MasterCard commercial, this will be "priceless."•
__________
Campbell, president of Campbell Strategies, was a deputy mayor under former Indianapolis Mayor Bart Peterson. Send comments on this column to ibjedit@ibj.com.
Please enable JavaScript to view this content.