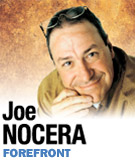 Twice a year in Vienna, the members of the Organization of Petroleum Exporting Countries gather to decide on the short-term direction of oil prices. Always, the goal is to fix the price of oil, rather than allow it to be set by the competitive marketplace.
Yet, in Indianapolis a few days from now, a home-grown cartel will hold its annual meeting, where it, too, will be working to collude and fix prices. The National Collegiate Athletic Association would have you believe that it is the great protector of amateur athletics, preventing college athletes from being tainted by the rivers of money pouring over college sports.
In fact, the NCAA's real role is to oversee the collusion of university athletic departments, whose goal is to maximize revenue and suppress the wages of its captive labor force, aka the players. Rarely, however, will the cartel nature of the NCAA be so nakedly on display as at this year's convention.
Sports leagues can't exist without at least some collusion. As Andy Schwarz, an economist and litigation consultant, puts it, "If steel companies got together to decide when and where to produce steel, that would violate the antitrust laws. But if sports teams in a league get together to decide when and where to play games, that's generally allowed."
Major League Baseball has long had an antitrust exemption; other professional leagues have salary caps, which are legal because they have been agreed to by the players.
The NCAA has neither an antitrust exemption nor a player's union to negotiate with. In other words, it lacks some of the legal protections that shield professional sports from antitrust suits.
What it has instead is a work force full of young adults dreaming of becoming pros and willing to sign any document, no matter how onerous, if it will help them reach that goal. The document the NCAA forces them to sign completely stacks the deck against them.
Recently, Mark Emmert, the president of the NCAA, tried to make the rules a tad less onerous. He got the NCAA board of directors to approve an optional $2,000 stipend as well as a four-year scholarship instead of the current one-year deal for players.
And how did the cartel react to these modest changes? It rose up in revolt. Enough universities signed an override petition to temporarily ice the new stipend. The same thing happened with the four-year scholarship.
A lawyer in Fort Worth, Texas, Christian Dennie, who specializes in sports law, obtained an internal NCAA document outlining some of the objections. One is especially worth repeating: "The new coach may have a completely different style of offense/defense that the student athlete no longer fits into," wrote Indiana State. Four-year scholarships might mean that the school would be stuck with "someone that is of no 'athletic' usefulness to the program." (Andy Staples at Sports Illustrated first reported on this document.)
At the NCAA convention in mid-January, both of these rules will be reviewed. In all likelihood, the NCAA will roll them back. However benignly it characterizes this action, it will be as clear-cut an example of collusion as anything that goes on at an OPEC meeting.
How can it be that the NCAA can define amateurism in one moment as allowing a $2,000 stipend and in the next moment as forbidding such a stipend? How can it justify rolling back a change that would truly help student athletes, such as the four-year scholarship, simply because coaches want to continue to have life-or-death power over their charges? How can the labor force that generates so much money for everyone else be kept in shackles by the NCAA?
The NCAA claims it has the legal right to do all of the above and more. And maybe it does. But it certainly would be worthwhile to see someone challenge its cartel behavior in court. The inevitable rollback of the $2,000 stipend and the four-year scholarship would be an awfully good place to start.•
__________
Nocera is a New York Times columnist. Send comments on this column to ibjedit@ibj.com.
Please enable JavaScript to view this content.