It started on a whim. Retha Parsley was at a convention in Dallas in 2006 representing the travel-nurse placement business she and her sister had grown for seven years. She saw an advertisement in a magazine for Edible Arrangements, a franchised fruit-bouquet-delivery service.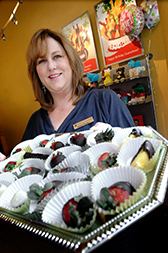 Retha Parsley's Edible Arrangements store at 17 N. Pennsylvania St. is one of the first nationwide to offer dipped fruit to go, along with smoothies, and fruit salads and sundaes. (IBJ Photo/ Perry Reichanadter)
She thought of how often her business would likely use such a service to send unique gifts to clients.
"I said, 'I want to open one of those.'"
Seven months later, using funds she had "invested and put back," Parsley opened the first Indiana Edible Arrangements franchise, in Fishers. She opened a second location in Glendale in 2008, and soon found herself "a very tired absentee owner" in the nurse-placement operation. She bowed out of the family business in April 2011 and used the extra energy to open a third Edible Arrangements franchise, at 17 N. Pennsylvania St., in November.
"I saw more growth" in delivering fruit bouquets, Parsley said, and the nurse-placement business was "so incredibly stressful," including 24-hour beepers.
"I looked at my husband and said, 'What do we choose? That huge paycheck or a life?'" The couple chose to have a life, and Parsley said they could not be happier.
But instead of reducing her stress, she might have only switched to a kind she thrives on. Consistently delivering quality, attractive, fresh fruit arrangements on deadline day-in and day-out is no laid-back endeavor. A typical day finds each of Parsley's stores cutting fruit, dipping some of it into chocolate, and arranging all of it into 50-60 bouquets. On the year's busiest day of "flower" deliveries, Valentine's Day, multiply that number by 10.
"After every Valentine's Day, I come home and say, 'We're selling the business,'" Parsley said.
'Tons of energy'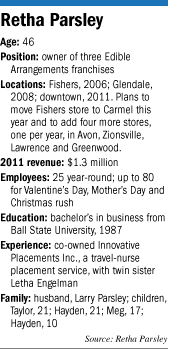 But instead of selling, she is making plans for expansion. Parsley, 46, hopes to open a fourth franchise, in Avon, this year and one more each of the following three years—in Zionsville, Lawrence and Greenwood. A separate franchisee operates a Greenwood store, so Parsley said she will have to choose territory that doesn't cannibalize that location.
Tariq Farid, who co-owns Connecticut-based Edible Arrangements with his brother Kamran, said Parsley's "amazing" customer-service skills, her deep knowledge of the Indianapolis market, and her "tons and tons of energy" give the company confidence to keep granting her more franchises.
"Retha is one of the highly successful franchisees that helps us to learn a lot about our concepts and systems," Farid said.
Parsley cracked the Indiana market for Edible Arrangements the same year the company hit the 500-store mark. It has since more than doubled that number, but has only 10 stores in Indiana.
The Hoosier state might still be only a blip on the company's radar, but Parsley is certainly much more. In 2010, she won the firm's Pineapple Star Award for the Midwest, the designation for the region's top franchisee. In 2009, she won the Smoothest Store Opening Multi-Unit Owner Award for her Glendale store's debut. Her husband, Larry Parsley, operations manager for her franchises, serves on the company's Project Storefront Panel, a committee of franchisees that advises the Farid brothers on storefront design and layout.
Parsley hasn't traveled a smooth road to where she is today. She grew up on a tobacco farm in Vevay, along the Ohio River, east of Madison. The jobs she managed to find after graduating from Ball State University in 1987 with a business degree felt like dead ends for years.
"I always ended up in sales somewhere, or as an administrative assistant," she said, usually with a higher-paying side job waitressing.
Then, in 1999, her identical twin sister Letha Engelman, a physical therapist, came to her with the idea to locate nurses on request, nationwide. Parsley, a single mother at the time, quit her day job "on a leap of faith, or a leap of stupidity—I'm not sure which it was."
Parsley and her sister grew Innovative Placements Inc. into a $10 million business.
Engelman, who still runs Innovative Placements, said both sisters have a drive to succeed.
"There are a lot of people that sit and wait for things to get done. We get it done," Engelman said. "I think that's the farmer in us."
Her sister is a natural businesswoman, Engelman said, overcoming whatever obstacles she must.
Weathering setbacks
That resiliency has served Parsley well on numerous occasions—such as last Valentine's Day, when the phones went out at the Glendale store. Hundreds of unhappy customers had to be refunded their money.
When things go wrong, "it's a challenge not to sit in a corner and say, 'I quit,'" Parsley said.
Parsley's business, incorporated as Reuters LLC, now has an emergency plan, thanks to that crisis.
"You learn from every mistake," she said.
The business finances are also streamlined these days. An adviser sat Parsley down and helped her "clean up" the franchises' financial structure.
Parsley usually works 50-55 hours a week, keeping all the books, and managing human resources, payroll and advertising. She spends two to three days in her stores. Larry Parsley is in the stores every day, she said, and her daughter Taylor manages the Fishers location.
Parsley's manageable schedule is out the window before the big three holidays: Valentine's Day, Mother's Day and Christmas, when her work week extends to about 80 hours, and she and Larry are both in the stores every day. During those peak times, Parsley is hands-on—cutting fruit, making arrangements, "whatever is needed."
Except for skewering grapes. She hates skewering grapes. "I pull my owner's card on that one."
Edible Arrangements' corporate office takes care of one challenge: maintaining consistent standards of quality for the fruit the stores sell. The company requires that all vendors participate in its so-called Fresh Program (though none of the fruit sold by Parsley's stores is grown locally).
A new concept, used in only 37 Edible Arrangements stores so far, is incorporated in her downtown location. Edible to Go offers individual pieces of dipped fruit, along with smoothies, yogurt and fruit parfaits, and fruit sundaes. Farid said the company is testing the concept in its newest stores, and plans to phase it into all of them eventually.
Parsley's expansion plans are careful and deliberate. The company estimates each store requires a $200,000 investment, so Parsley wants to move purposefully. She's taken development classes through the Greater Indianapolis Chamber of Commerce, written a business plan, and made market forecasts.
"If one little cog goes down, I fail," Parsley said.
Her sister doesn't think failure is likely. Engelman said she's recognized Parsley's business and marketing acumen for years.
"You talk to many people—they don't get it," Engelman said. "Retha gets it. She just gets it."•
Please enable JavaScript to view this content.