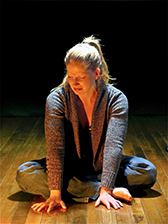 Lisa Marie Smith in "Two Rooms." (Photo/Roy Chamberlin)
On one stage: a semi-musical version of a 1970s adult film (sans extreme naughty bits).
On the other stage: a harrowing drama exploring both the personal and the global impact of a hostage situation in the Middle East.
You won't find greater theatrical diversity under one roof than the one-two punch being delivered now at Theatre on the Square. OK, so one is an actual TOTS production and the other comes courtesy of an outside production company, but still, the contrast is difficult to avoid.
Let's start with "Debbie Does Dallas" (through Feb. 2) and give a few extra points to TOTS for having the guts to program a semi-Super-Bowl-related show while most other arts organizations are collecting their space rental fees and fleeing to their living rooms until the game is over.
"Debbie," which generated some interest off-Broadway, holds the attractive promise of titillation combined with ironic detachment. Audience members who wouldn't admit they have seen the original—or any of the thousands of its skin-flick ilk—can comfortably go to a theater without guilt to see the saga of a group of high school cheerleaders who realize there's a less time-consuming way to make money than car washes and baby-sitting.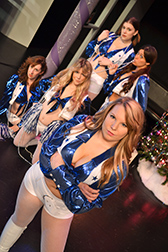 The ladies of "Debbie Does Dallas." (Photo/Aaron Swartz)
How graphic does it get? Well, there's no doubt what these cheerleaders are doing to earn the cash for their trip to the title town. But while it's got scenes that take place in a locker room shower and a candle shop (don't ask), "Debbie" is tame compared with some of the skin-revealing shows that have been featured on TOTS stages.
More important, how entertaining is it?
If only the show itself delivered on its silly promise. Not that I expected Ibsen from a show whose script is taken largely from the original film (or so I'm told), but while the cast is playful and game, the writers seem to be going through the motions.
Scene after scene in "Debbie Does Dallas" ends not at an interesting place but when the characters run out of things to say and just chirp "bye" before exiting. A few fun, earnest songs hint at the giddy show this could be, but the tunes are few, short and far between (and one in the second act seems dropped in from another show). A meta-moment late in the show commenting on the action doesn't quite work. As directed here, the show often clunks where it should move, turning what should be a fun hour and a half/no intermission frivolity into a too-long two hours.
Still, there are some good laughs, an actor with a textbook 1970s moustache, a few sweet musical moments, and, for the prurient, a quartet of lovely young women willing to do anything for a buck.
____________
Not only is newcomer Acting Up Productions' latest show worlds away from "Debbie Does Dallas," it's worlds away from the previous Acting Up show I caught, Halloween week's "Night of the Living Dead."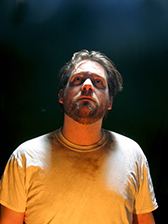 Sam Fain plays a political prisoner yearning for home in "Two Rooms." (Photo/Roy Chamberlin)
But that title could also apply to "Two Rooms" (running through Jan 22).
Originally staged in 1988, Lee Blessing's harrowing drama concerns another kind of living dead, a Beirut college teacher held prisoner in the Middle East and his wife creating her own kind of prison stateside.
How do you grieve the loss of someone who isn't dead? How do you find hope when everything is out of your control? Do you listen to the officious government official and just keep your mouth shut? Or do you give in to a journalist's efforts to get you to speak out on … what? Wanting your husband back?
It helps considerably that lead Sam Fain compellingly captures the resignation, befuddlement, exhaustion and sensory focus/unfocus of a man who has been robbed of the ability to keep track of days. In the tougher role, Lisa Marie Smith is strong as a woman trying to hold onto her faraway husband by building a sacred space out of his former home office.
Despite some moments where subtlety instead of shouts might have better served the characters, both understand that people in isolation have unexpected epiphanies.
The reporter (Scot Greenwall) could be a stock character, but here he seems uncertain of the honorability of his behavior and his unspoken feelings toward his subject, giving their scenes a rich inner life. I wish something similar could be said about the official who, in the writing and the performing, comes across as a stock type, out of place among the trio of full-bodied characters on stage.
The play has an urgent truth to it not because it makes big, jingoistic political statements but because Blessing has such a strong understanding of people who exist in a world beyond their control.
Sadly, "Two Rooms" is all too relevant in today's world.
Happily, Acting Up Productions proves with "Two Rooms" that it's serious about adding quality drama to the local theater scene.•
__________
This columns appears weekly. Send information on upcoming arts and entertainment events to lharry@ibj.com
Please enable JavaScript to view this content.