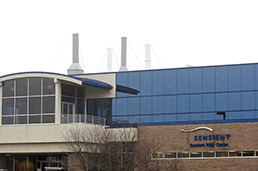 Sensient Flavors' Raymond Street plant has been inspected by federal and state agencies. The company alleges in a new lawsuit that the agencies' research is flawed and that its constitutional rights have been violated. (IBJ Photo/ Perry Reichanadter)
Locally based Sensient Flavors LLC is fighting back with a fury in federal court, following months of intense federal and state scrutiny of the health risks at its Indianapolis plant.
The flavorings manufacturer, a subsidiary of Milwaukee-based Sensient Technologies Corp., recently sued the National Institute for Occupational Safety and Health (NIOSH) as well as the Indiana Occupational Safety and Health Administration (IOSHA).
The 31-page suit, which also names three NIOSH employees and two IOSHA compliance officers, says Sensient has been "harassed and intimidated" and "subjected to enormous intrusions" that violate its constitutional rights.
Sensient's "long-earned and well-deserved reputation as a leader in the protection and promotion of employee health and safety have been put in jeopardy by the adverse publicity accompanying defendants' abuse of government power," the month-old lawsuit alleges.
The legal melee playing out in federal court in Indianapolis stems from the company's use of diacetyl, a compound used in microwave popcorn, margarine and other products to create a buttery taste.
The product has created a firestorm of controversy in recent years, as health regulators and scientists assess the risks. Some U.S. factory workers with prolonged exposure to diacetyl have developed a rare, life-threatening lung condition—dubbed popcorn lung—for which there is no cure.
Sensient Flavors' Indianapolis plant, 5600 W. Raymond St., has been in the spotlight since 2008, when the International Brotherhood of Teamsters Local 135 asked NIOSH to conduct a formal health hazard evaluation. The Teamsters represent more than 100 production and maintenance workers at the plant.
NIOSH, part of the Atlanta-based Centers for Disease Control and Prevention, still had questions after inspecting in May 2008. But when it requested a second look, the company sued, arguing that no new information had emerged that would entitle it to go through the highly invasive process again.
A federal judge shot down that argument two years ago, asserting that it was premature for the company to sue NIOSH while its investigation was ongoing.
Things turned worse for Sensient last year. In June, NIOSH publicly released a health-hazard report on the Indianapolis plant that found the prevalence of abnormal lung functioning among employees was several times higher than would be expected in the overall U.S. population.
In its latest lawsuit, Sensient says the report is "grossly inaccurate and is based upon process, methodology, findings and conclusions which amount to bad science and a clear abuse of agency discretion."
Sensient officials soon had a new headache. On Sept. 12, IOSHA compliance officers armed with a search warrant showed up unannounced. Sensient went to court and succeeded in quashing the warrant, arguing it was overly broad and not supported by probable cause. But a judge signed off on a narrower version that led to repeated visits from IOSHA inspectors from Sept. 15 until Oct. 14.
During that span, Sensient alleges, IOSHA officials issued overly burdensome document requests, made misleading statements, and sometimes thwarted the company's efforts to take its own samples alongside IOSHA compliance officers.
Fed up, Sensient filed suit Dec. 8.
As the company battles in court, it also is fighting recommended standards for diacetyl exposure that NIOSH proposed in a draft document in July.
Sensient executive James McCarthy said in a November letter to the agency that his company already has excellent engineering controls to minimize diacetyl exposure. He said additional controls at the Indianapolis plant to meet the proposed standards would cost $4 million to $6 million and "would be incurred without a clearly defined benefit for the incremental reduction in potential employee exposures."
In a separate letter to NIOSH, Noblesville-based Weaver Popcorn Co. took the same position, arguing that "the data and analysis upon which the proposed levels are based do not stand up under objective scientific scrutiny."
An attorney for Sensient, Mark Stuaan of Barnes & Thornburg, declined to comment, citing the pending litigation. NIOSH public affairs officer Fred Blosser also would not comment.
IOSHA spokesman Robert Dittmer said his agency opened an air-quality investigation at Sensient's Indianapolis plant in September after receiving NIOSH's health hazards report.
"The report strongly suggested that a significant number of employees at the plant suffered respiratory problems resulting from potential chemical exposure at the Sensient plant," Dittmer said in an e-mail.
He said IOSHA's investigation remains open.
Brian Buhle, secretary-treasurer of Teamsters Local 135, said the union shares regulators' concerns about the safety of the plant. He said he would like to see Sensient confront the issues instead of being combative.
"It seems to me they have used every legal maneuver in order to quash IOSHA's investigation and findings," he said. "It would be my opinion they are not being very cooperative in the investigation into this situation."
The company's challenges seem sure to grow even more intense. In November, NIOSH disseminated to health care professionals a flier advising that "workers who breathe flavoring chemicals containing diacetyl, such as butter flavoring, may be at risk of severe obstructive lung disease."
And workers around the country who've been exposed to diacetyl on the job increasingly are turning litigious. In late 2010, a Cook County, Ill., jury handed a factory worker the biggest verdict ever in a popcorn lung case: $30.4 million. Meanwhile, some class action attorneys have made trying cases involving the disease a specialty.•
Please enable JavaScript to view this content.