So you're a computer science graduate of a top university, itching to work for a global technology company.
Then you'd be up for conducting a pre-dawn videoconference with software developers in Botswana, right?
Unfortunately, all too often, "students coming out of the universities don't have any international experience," said Chris Riester, CEO of Indianapolis-based software development firm Ativio.
Weary of having to teach new hires how to work on teams with people halfway around the globe, Riester persuaded Purdue University to let him teach such a class to graduating seniors this past fall.
Riester will teach it again at Purdue this spring, when he'll also bring it to students at IUPUI and to Rose-Hulman Institute of Technology.
Be warned that this isn't some blow-off course from a visiting lecturer, however. Students find themselves face-to-face via video screen with foreigners who don't look or sound like them. Using video and e-mail, Purdue students must complete IT projects with counterparts at colleges in India and Botswana.
Ativio has divisions in both countries that work with its staff in Indianapolis, so Riester knows firsthand the challenges posed by time zones, cultural issues and communications glitches.
But one might wonder how tough these challenges could be for computer science students who may have aced multivariate calculus and who know how to spell "algorithm" as well as to write one.
"At first, sure, it didn't sound like it'd be difficult to learn at all. Just talk to fellow students overseas and do a project," recalled Matthew Sutherlin, 24, of Crawfordsville, who completed the course before graduating from Purdue in December.
But, he added, "It was a bit more complicated than I thought."
Different world
For one, there was the time zone issue. Botswana was seven hours ahead and India 10 hours ahead. Sutherlin spoke to his overseas team members soon after waking up, as they were finishing their day.
"If someone had a question for me in India, they could waste their whole day waiting to talk to me. We had to do a lot of planning to ensure that all team members could make progress on the project," Sutherlin said.
That "planning" included anticipating what potential obstacles would arise and how they would be overcome even before they became problems.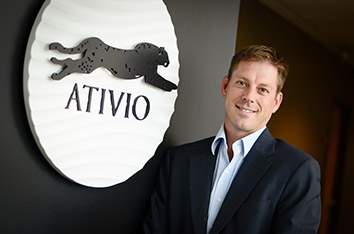 Ativio CEO Chris Riester is teaching collaboration skills to IT students in three countries. (Photo Courtesy Ativio)
And just when they thought they'd anticipated what could go wrong, the video or Internet feed would go haywire.
The challenge was further compounded by such issues as holidays in other countries, said Thomas Maley, 27, of Knightstown, one of the three other students in Riester's class at Purdue.
"I went without being able to talk to the portion of a team from one of the countries for over a week," Maley said.
Related to that was the challenge of how to resolve disputes and problems without the entire team present, "without alienating or upsetting the absent team members," he added.
And then there are cultural issues.
One of the teams was trying to figure out what kind of website to develop as its project. The Botswana and Purdue students proposed a site depicting nightlife in each country.
"India came back and said, 'We really don't have a nightlife. We don't do that'" because of arranged marriages, Riester recalled. Instead, the team agreed to create a website about monuments in each country.
Awkward, indeed, although Riester figures it's better to learn to handle such situations in an academic setting rather than on the job, when one is older and presumably wiser.
Alternative to overseas study
Ideally, college students would have the opportunity to study abroad. But only about 5 percent of students have the means to do so, Riester said.
His pitch to teach such a course fell on receptive ears at Purdue.
H.E. "Buster" Dunsmore, an associate professor of computer science, knew Purdue's corporate partners increasingly want students with international experience.
But unless students study abroad, "this is an experience we could not [otherwise] give them," Dunsmore said.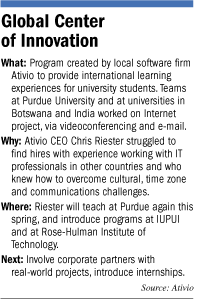 From eight students who were eligible to take Riester's class, four opted for it, with some trepidation.
"You mean my grade will depend in part on what people in India do?" one student asked him.
Better for these future workers—and global IT firms like Ativio—to grasp global teamwork skills now rather than later.
Riester can spend months developing a new hire only to see his efforts come to naught when the employee realizes it would be easier to work elsewhere.
The employee concludes: "There's no way … . I can't get up at 3 in the morning and talk to people overseas," Riester said.
Those who took Riester's class at Purdue have a different take.
"The world is getting smaller. Everything is going global. Companies are realizing the potential of having someone working 24 hours a day by smartly utilizing time zones. Anything I can pick up is going to pay off in spades," Sutherlin said.
"The most rewarding aspect was seeing the team grow from an awkward video chat, where we struggled to overcome technical difficulties and understanding accents, to a functioning team producing results," Maley said.
Corporate partners sought
Riester, meanwhile, is hoping to get more results from his program, which he's dubbed the Global Center of Innovation.
From 64 students in three countries in the initial course last fall, he'd like to have 1,120 students enrolled in the spring. He's also seeking to bring in corporate partners who could not only help advise students, but perhaps even throw them some real-world, business-driven projects.
Riester wants to give some of the best and brightest students 12-week internships that involve actual projects at Ativio.
Growing the program likely will require additional funding. Riester has been looking around for potential sources. Some countries provide subsidies for this form of education.
"We're in a funny space with this. You're in between business and education."•
 
Please enable JavaScript to view this content.