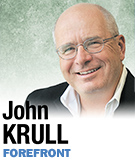 Mark Jan. 10, 2012, in your calendar.
It is likely to be a pivotal moment in Indiana's history. It will be either the day the leaders in the Indiana General Assembly began to come back to their senses or the day that they poisoned the political atmosphere in the state to such a degree that it will take years to cleanse it.
The day did not begin well.
At a committee meeting considering the right-to-work bill that has divided the Indiana House of Representatives for the past two sessions, the chair—Rep. Doug Gutwein, R-Francesville—refused to hear Democrats' amendments. The bill, which would make it illegal to require employees to pay fees to a union as a condition of employment, passed on an 8-5 party-line vote.
Democrats reacted with outrage.
"It seemed to me that the light of democracy just went out of the Indiana House," said Rep. Clyde Kersey, D-Terre Haute.
More significantly, Democrats took aim at Gutwein's reasoning for refusing to hear their amendments. Gutwein said they hadn't been submitted by the House deadlines. Democrats responded by saying that, because they had boycotted the session's first three days, the House could not have officially begun its session so the clock for deadlines couldn't have started.
That sort of legalistic parsing often is prelude to a lawsuit.
By the time Gov. Mitch Daniels delivered his last State of the State address, a huge crowd had gathered in the Statehouse to protest the speech. The crowd became angry and surly and grew angrier and surlier after being slow-walked through the security process to enter the building.
And perhaps the security did the slow walking for good reason.
The protestors in the building shouted that the governor was a liar.
As shocking as that was, it wasn't as disturbing as a quieter moment.
I stayed outside the House chamber to observe the crowd. At one point, I watched the speech on one of the monitors on the main floor of the Statehouse.
A guy wearing a union jacket stood beside the monitor and, his face twisted with anger, whispered obscenities at the screen while the governor spoke.
Daniels did not help matters by citing in his speech a clearly partisan poll claiming that two-thirds of Hoosiers support right-to-work. The only credible independent poll has been done by Ball State University. It shows that a near majority of Hoosiers—48 percent—have no idea what right to work is. The others are pretty much evenly divided.
As the night wore on, some people were clearly shaken by what was happening.
Sen. Brent Waltz, R-Greenwood, compared what he was seeing to the Civil War and hinted that some Senate Republicans were growing more and more uneasy about where the right-to-work battle was going.
And Nancy Guyott, the Indiana AFL-CIO president, told me that part of what was fueling labor's rage was that they felt they'd not had a chance to speak or be heard.
By week's end, cooler heads seemed to be reasserting themselves.
House Speaker Brian Bosma, R-Indianapolis, reviewed the committee meeting that kicked the anger into overdrive and said it wasn't reflective of best democratic practices. He reached out to House Minority Leader Pat Bauer, D-South Bend, to assure him that the process would be slowed down so that Democrats' amendments and concerns could be heard.
Then Ball State economist Michael Hicks released a study showing what moderates in both parties have been saying all along—that right-to-work would not create jobs (Republicans' claim) or depress wages (Democrats' claim).
Hicks' study didn't seem to change many minds.
Fire-breathing Republicans still say that right-to-work will be the closest thing to a full-employment act the state has. Red-hot Democrats insist that it will drive wages down to near Third-World levels.
I certainly hope one side is right.
Because if neither side is right, together they've stirred up so much ill will that we'll have difficulty getting anything else done for a long time to come.•
__________
Krull directs Franklin College's Pulliam School of Journalism, hosts the weekly news program "No Limits" on WFYI-FM 90.1, and is executive director of The Statehouse File. Send comments on this column to ibjedit@ibj.com.
Please enable JavaScript to view this content.