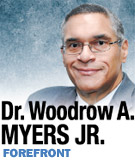 I am not one of Peyton Manning's physicians. I have not seen his X-rays, MRIs or medical record. I have never examined him (but I did shake his hand once a few years ago, and his handshake was firm and strong).
So I am unable to offer a true medical opinion on his condition. However I can state the obvious: Angry, agile, fast, 25-year-old, 350-pound (all-muscle) defensive linemen are not good for a neck that has had three surgical procedures since March 2010.
There are a lot of important structures that live in human necks (including those of the "super-humans" like Peyton), and Peyton will continue to need the support and the protection the bones, muscles and ligaments provide in his neck for the next 60-plus years he will be alive.
We are all selfish for wanting him to stay on the field and entertain us with his incredible brilliance as the best quarterback who has ever played in the National Football League. We are wrong to hope that Jeff Saturday and his fellow offensive linemen will be able to protect him on every single play, even when he moves out of the pocket (which he often does) to find Dallas Clark in the flat or Reggie Wayne flying toward the end zone on a post.
And we are greedy, after 11 years, to want Peyton to run yet another two-minute, no-huddle, perfect drive to bring us from behind, to win yet another game, so we can call our friends in New York, Pittsburgh, New England (and especially those in Baltimore) and brag and gloat and beat our chests with manly pride.
As a fan, I am insatiable—I don't want to see Peyton Manning retire. As I physician, I am worried. By all reports, he has had at least one posterior procedure to decompress his cervical spine (that did not work) followed by an anterior (more difficult and more effective) procedure to fuse adjacent bones in the cervical spine to increase their stability and reduce (if not eliminate) the pain and weakness caused by the disc impinging the nerves.
One of the key muscles fed by the nerves from the lower part of the neck is the triceps brachii, which, if you are a carpenter or a quarterback, is indispensable for accuracy in working a hammer or for throwing a forward pass. If the triceps brachii is not back to 100 percent, the quarterback is not back to 100 percent. You need 100 percent to avoid throwing interceptions to cornerbacks with NFL speed. You don't need 100 percent to carry groceries, to pick up your kids, to hug your wife, or to use the remote.
Nor do you need 100 percent to continue to support the Peyton Manning Children's Hospital named after you where lives are saved every day, or to accept the yellow jacket after your first-round selection to the NFL Hall of Fame.
As a father, I want him to be able to enjoy every moment he can with his twins, who'll need him to show them how to throw the perfect spiral. As a Hoosier, I want him to enjoy the accolades and the thanks we'll shower on him for decades, and I'd prefer to never see him in a jersey without the No. 18 or a blue or white horseshoe.
It is hard to know when it is your time to change direction. For any man who has moved on after enjoying a modicum of success, there will always be that doubt that you could have had just one more "great" year.
No, I am not one of Manning's physicians, nor am I a spine surgeon, nor am I the physician for any team in professional sports.
I do hope those physicians who are advising him and the Indianapolis Colts leadership remember the translation of the Latin oath we all took after graduating from medical school—Primum non nocere—"First, do no harm."•
__________
Myers is a former chief medical officer for WellPoint Inc. and served as health commissioner for Indiana and New York City. Send comments on this column to ibjedit@ibj.com.
Please enable JavaScript to view this content.