A number of acquisitions last year disclosed no sale price. In the Indianapolis area, those deals ranged from MacAllister Machinery's purchase of a Caterpillar dealership in Michigan to Herff Jones' acquisition of a Memphis, Tenn.-headquartered maker of cheerleading uniforms.

• The Jackson Group, a printing and direct marketing firm that was one of Indianapolis' largest woman-owned businesses, was acquired Jan. 3 by Houston-based Consolidated Graphics Inc.

• Ratio Architects Inc., an Indianapolis-based architectural firm, on Jan. 10 acquired Cherry Huffman Architects in Raleigh, N.C.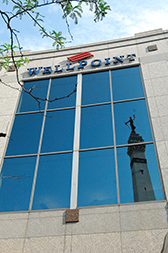 WellPoint Inc. bought a majority stake in Bloom Health, an online health insurance exchange. (IBJ file photo)
• Indianapolis-based MacAllister Machinery Co. Inc. on Feb. 3 acquired Michigan Tractor and Machinery Co. of Novi, Mich., another Caterpillar heavy equipment dealership.

• Indianapolis-based Midway Produce Inc. was acquired Feb. 21 by U.S. Foodservice Inc. of Rosemont, Ill.

• J.D. Byrider, a Carmel-based used-car franchisor, was acquired May 3 by Altamont Capital Partners, a private investment firm headquartered in Palo Alto, Calif.

• Evanced Solutions Inc., an Indianapolis-based supplier of library software and online tools, was acquired May 19 by Demco Inc. of Madison, Wis.

• Visiting Nurse Service Inc., an Indianapolis-based not-for-profit home health and hospice care organization, was acquired May 19 by Franciscan St. Francis Health.

• Nyhart Inc., an Indianapolis-based actuarial and employee benefits consulting firm, was acquired June 6 by Stanley Holcombe & Associates in Atlanta.

• One Call Now, a message notification provider based in Troy, Ohio, on June 7 acquired Indianapolis-based Vontoo Inc., which provides permission-based voice broadcasting and interactive video services.

• Dow AgroSciences, the Indianapolis-based agricultural arm of Dow Chemical Co., on June 8 acquired Sansgaard Seed Farms Inc. of Story City, Iowa.

• Indianapolis-based Lids Sports Group on June 10 acquired Buckeye Corner stores, the official retailer of the Ohio State University Alumni Association. Both sell sports hats and clothing.

• Racer Parts Wholesale, a motorsports parts and accessories seller in Indianapolis, acquired Atlanta-based Racer Wholesale on June 15.

• Indianapolis-based IT managed services and print manager Netwise Resources LLC on June 20 acquired Advanced Business Equipment Inc., a Lafayette office equipment sales and service company.

• Carmel-based Paddington Corp. on June 23 acquired Pelican Brands LLC, also headquartered in Carmel, and also a distributor of wine, beer and spirits.

• MWM Acoustics in Indianapolis was acquired July 29 by Stamford, Conn.-based Harman International Industries Inc.

• Indianapolis-based Herff Jones Inc. on Aug. 1 acquired Varsity Brands Inc., a Memphis, Tenn.-based maker and distributor of cheerleading and dance clothing.

• Indianapolis-based E&A Industries Inc. on Aug. 3 sold its Dynaloy LLC cleaning chemical business to Eastman Chemical Co. of Kingsport, Tenn.

• Kaplan Compliance Solutions, an insurance and securities software firm headquartered in Indianapolis, was acquired Aug. 25 by Vertafore Inc. of Bothell, Wash.

• Carmel-based Zotec Partners, which manages physician billing, on Sept. 7 acquired Medical Business Services Inc., a medical billing firm in Coral Gables, Fla.

• Indianapolis-based WellPoint Inc. on Sept. 20 acquired a 78-percent stake in Bloom Health, a privately held online health insurance exchange headquartered in Minneapolis.

• Axess Ultrasound, an Indianapolis-based provider of ultrasound services, on Oct. 3 acquired Tulsa, Okla.-based Specialized Technologies.

• Carmel-based consulting firm enVista Corp. on Oct. 6 acquired Business Process Improvement, a Columbus, Miss.–based third-party supplier of data conversion and software development services.

• Indianapolis-based Maregatti Interiors LLC was acquired Oct. 11 by Dallas-based architectural firm HKS Inc.

• Brannon Sowers & Hughel PC, an intellectual property law firm, on Oct. 24 acquired Robinson & Doss LLC, a general counsel and litigation law firm. Both were based in Indianapolis.

• Carmel-based Indy IT Professionals on Oct. 31 acquired Network Security Services, also headquartered in Carmel.

• Indianapolis law firm Baker & Daniels LLC was absorbed Oct. 12 by Faegre & Benson LLP of Minneapolis.

• Electrical Equipment Co. Inc., an Indianapolis company focused on electronic security, sound and communications equipment, was sold Nov. 4 to Michael W. Day and Gerry J. Murphy.

• Sikich LLP, an accounting firm headquartered in the Chicago suburb of Aurora, on Nov. 7 acquired Imler CPA in Indianapolis.

• Hribar Logistics, a trucking firm headquartered in Caledonia, Wis., on Dec. 12 acquired Indianapolis-based MCS Trucking Inc.•