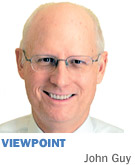 I am outstanding, right?
As Webster says, I am "marked by superiority or distinction." This must be true, for at least a few people think so.
Every year, I receive two or three letters declaring that I am outstanding and, therefore, qualify for a $49.95 plaque declaring this distinction. "Order now," the letters say, "and save 20 percent off the regular price" for an "elegant, prestigious plaque suitable for display in your office or reception."
Also every year, an articulate and charming telephone voice tells me, "Mr. Guy, a survey reveals that you are one of the outstanding financial advisers in Indianapolis. Congratulations!"
"Thank you," I respond. "Please tell me about the survey."
"It was city-wide."
"How were the respondents selected?"
"Sorry, I do not know."
"Please give me the names of persons who nominated me."
"No, I do not have that information," she says.
"OK. That is fine. Please tell me how the survey results will be used."
"Your name will appear in a future edition of a magazine, with your biography, photograph and business affiliation, which is why I am calling. I want to confirm information about you. There is no cost to you."
"I see. So what are the benefits?"
"First is the obvious distinction of having your name printed in the magazine. Readers are affluent residents known to have investment advisers. In addition, following publication, you will be able to purchase reprints suitable for mailing to your clients and prospects, and you can acquire a plaque for display in your office or reception."
"How much do the reprints cost?"
"Fifty dollars for 100."
"And how much is the plaque?"
"Seventy-five dollars."
"And about how many other financial advisers will be listed in the publication?"
"Last year, we printed 65."
"Thank you. I will be glad to look at it again in future years when I am more familiar with your criteria and with the names of persons who have nominated me."
And I say to myself, "What could be more unethical?"
According to our conversations with clients, none has been asked to nominate us. We are unable to identify any individual (client, colleague, regulator or other financial planning professional) who has recommended us, and we cannot figure out how the survey could identify sources of information about us.
My firm does not disclose names of clients, past or present, to any public entity, which means a reliable survey of people who know us is impossible. We disclose information required by securities regulation, such as assets under management, number of clients, types of clients and how to contact us, but no information relating to the quality of our services.
From public data, arriving at the distinction "outstanding" is not possible, because levels of satisfaction, client retention and terminations, rates of return on managed accounts, and successful implementation of financial planning suggestions are not disclosed and, if distributed, are not subject to rational evaluation.
Since clients rarely deal with more than one financial-planning professional, they have no data or experience on which to judge that we are superior.
Outstanding? Maybe, but unlikely. Peyton Manning is outstanding. So was Michael Jordan. But, in Indianapolis, 65 of us are "outstanding," meaning measurably better than all the rest. Hard to imagine.
Like humans everywhere, most of the time we are quite good, once in a while we make mistakes, and putting our humanity in a larger perspective is not feasible. We do not score points in tournaments.
So, I say to the caller:
"Thank you, but no thank you."•
__________
Guy is an Indianapolis money manager, certified financial planner and president of Wealth Planning & Management LLC. He is the author of "Middle Man, A Broker's Tale." Send comments on this column to [email protected].
Please enable JavaScript to view this content.