When Mass Ave eatery Agio closed last summer, I mourned the loss of chef/owner Joseph Heidenreich's tasty empanadas. Then a couple of months ago, Heidenreich resurfaced at Chef Joseph's at the Connoisseur Room (115 E. Ohio St., 600-3577).

With him leading the culinary charge, the one-time cabaret venue opened for weekday "executive" lunches and special evening events—including pre-symphony dinners, beer-and-tapas suppers, and wine and bourbon tastings.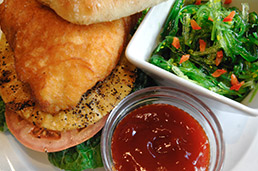 The Red Grouper Tempura sandwich ($14.95), above, was tasty but hard to eat without a fork. Seaweed salad and banana ketchup complete the meal. (IBJ Photo/ Perry Reichanadter)
We ventured over at midday, finding the coat-and-tie crowd comfortably ensconced amid the dark wood and exposed brick. Anything billed as "fine dining" usually makes me nervous, but the friendly, attentive staff kept me from worrying too much about which fork to use.

The limited menu likewise was accessible but still classy. Heidenreich focuses on fresh ingredients, changing the lineup every other week. Sadly, his empanadas weren't available the day we visited, but rumor has it they're in the rotation.

Although we were tempted by the Fried Alligator Tail ($9.95) and Cheesy Corn Chip Fried Goat Cheese ($9.95), we started with a cup of the Harvest Pork Stew ($4.95) served with a moist, tasty roll. Although the portion was a bit smaller than we would have liked, the thick soup was flavorful and chock full of pork and potatoes. The promised apples were less evident.

My Steak Burger ($10.95) was perfectly prepared despite my "When Harry Met Sally"-like list of modifications. Topped with tangy bleu cheese and sweet grilled onions (and minus the red wine sauce), the meat patty was juicy, well-seasoned and plenty filling. And despite our server's initial uncertainty, the kitchen substituted a small spinach salad for the standard house-made chips.

But the standout of the meal was my companion's Red Grouper Tempura sandwich ($14.95), served with a crisp seaweed salad. True to its name, the fish was lightly battered—just enough to provide a little crunch. A slice of pineapple gave the dish some welcome zing, as did the spicy banana ketchup. We couldn't detect much banana flavor (unless you count the banana peppers that supply the heat), but it was a worthy condiment.

As good as the Banana Pecan Bread Pudding sounded, we ran out of room before dessert. Maybe we'll save some space next time. Unless we fill up on empanadas.•

—Andrea Muirragui Davis

__________

Fourth in a month-long series of looks at newer downtown eateries.