Recycling advocates are rattled like aluminum cans tumbling in a barrel over a bill that would no longer allow solid waste management districts to levy property taxes to help fund their programs.
Senate Bill 210, as amended on Jan. 26, would require these districts administering recycling and household waste collection programs to now obtain county-council approval first.
County councils also would have to OK user fees the districts assess to fund their operations.
"[Districts] will have to sell the programs on a taxpayer-efficiency basis," said Sen. Luke Kenley, R-Noblesville, who offered the amendment in the Senate Appropriations committee he chairs.
The amendment passed 7-6.
But the Association of Indiana Solid Waste Management Districts said the bill creates extraordinary risks because it puts the two key funding mechanisms for waste districts in the hands of county officials who are often detached from the workings of waste districts.
Cities and towns often most directly involved in the recycling activities of the districts would have diminished voice in the process, the association said.
"There is no guarantee any of the money will get moved to the districts" under county-council oversight, said Julie Rhodes, executive director of the association.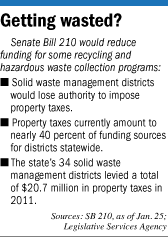 The risk is that county councils might not approve waste district funding in a time of growing fiscal constraints and competition from entities seeking funding, said Jesse Kharbanda, executive director of the Hoosier Environmental Council.
"This just puts great risk over the long-term sustainability of these very important programs," he said.
The bill's sponsor, Sen. Beverly Gard, R-Greenfield, said there's not been much transparency in the budgets of the various solid waste management districts statewide since they were created 22 years ago.
Gard sponsored that original legislation.
She said per-capita costs of such programs vary widely.
"The public doesn't know what it's getting or paying for," she told IBJ. "I think if they prove their worth, I think the counties will continue to support them."
The committee defeated by a 7-6 vote an amendment by Sen. John Broden, D-South Bend. It would have maintained the waste districts' current tax levy authority while the tax and fiscal policy committee conducted more study.
Sen. Lindel Hume, D-Princeton, said he opposed Gard's initial solid waste management district legislation 22 years ago, but doesn't see any reason to change it now.
"They seem to be working effectively. People seem to be satisfied with them … . I hate for us to take something that is working and change it," Hume told the committee.
Kenley told the committee that recycling has increased since Gard's enabling legislation two decades ago. He said recycling groups have had a "sky-is-falling reaction" to SB 210 and agreed with Gard that there has been insufficient scrutiny of the districts over the years.
Rhodes disagreed, saying Gard has involved her members in hearings every two or three years.
"It's not [been] without significant oversight," Rhodes said.
Last year, the state's 34 solid waste management districts levied $20.7 million in property taxes, according to the Legislative Services Agency. They had a total budget of $49.3 million.
Property taxes represent about 37 percent of the funding of districts overall, according to the Hoosier Environmental Council.
The potential loss of the two key funding mechanisms for the districts in 2013, as proposed in the bill, "could be devastating," Rhodes said.
The bill also has raised alarm bells at the Indiana Recycling Coalition. HEC's Kharbanda said the bill "would substantially cut funding for recycling and hazardous waste collection across the state."
"We realize counties are trying to free-up tax dollars because of property tax caps," Rhodes said. "We don't want to be the baby thrown out with the bath water."•
Please enable JavaScript to view this content.