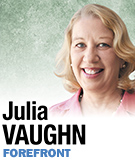 When advocates talk about open government, we usually refer to the laws governing citizens' access to government meetings and documents. This year, literal public access to government became an issue even before the legislative session started when the state police and Indiana Department of Administration announced ill-conceived and unnecessary new state-capitol-access rules right before the session started.
No doubt in anticipation of throngs of angry protesters jamming the Statehouse to protest right-to-work, the plan to allow public access through only one door and give special access to government workers and lobbyists while capping capacity at 3,000 persons was a figurative slap in the face to average Hoosiers. Common Cause/Indiana is grateful to Gov. Daniels for rescinding the unworkable and unfair policy.
The behavior of the right-to-work protesters points to how unnecessary the rules were. While the protesters are loud, they are orderly and have not been violent or destructive. The protests would have had a very different tone if the draconian access rules had stayed in place; citizens get angry when shut out of the process. It points to the need for government to always be welcoming of public involvement and emphasize transparency in the process.
Supporters of open government and transparency have reasons to cheer about legislation moving through the Legislature. Bills moving in both chambers would enhance Indiana's public-access and open-door laws, although a key component of that legislation is in jeopardy.
House Bill 1093 and Senate Bill 92, sponsored by Rep. Kevin Mahan and Sen. Beverly Gard, respectively, would bring long-overdue changes to the statutes that are so important in providing at least some tools for citizens seeking to hold government accountable.
The legislation would allow courts to assess financial penalties on public officials who commit knowing and willful violations. While the penalties are not nearly high enough ($100 for a first offense and $500 for any following), it is time to make a point with those hard-core offenders that keeping secrets from the public won't be tolerated.
The bills also require public agencies to give public notice of meetings by e-mail or a website, which the associations representing local governments are objecting to based on cost concerns. While I understand that tax caps have put a severe strain on local governments, it is highly unlikely these basic activities to inform citizens will break the bank.
Unfortunately, language that would allow the public access counselor to be a better arbiter over disputes involving redacted documents was removed, which is troubling given the penchant of many state agencies to make liberal use of redactions.
Currently, public access counselors can be asked to give an opinion on whether redactions are justified, but they aren't allowed to see the documents in an un-redacted state. Seems to me the counselor needs a before-and-after view to really give an informed opinion, so open government advocates will be working during the second half of the session to rework this language to address the concerns raised by the Daniels administration.
Despite all the work inside the Statehouse to improve public access laws, several recent events remind us of why transparency is so important and so basic to building and maintaining the public trust.
The recent agreement by the state and Amazon over sales tax has many hungry for the details, which they won't be getting since the Daniels administration refuses to turn over the documents, claiming it is a "settlement agreement" and therefore exempt from the law. No wonder rumors are swirling about a sweetheart deal; that's what happens when secrets are kept.
And, the administration refuses to disclose who contributed what to the Indiana Opportunity Fund, the "public welfare organization" that spent big bucks buying television ads promoting right-to-work. While not legally obligated to disclose who contributed and how much was spent, the governor would live up to the spirit of open government had he started the session by disclosing these donors.•
__________
Vaughn is policy director for Common Cause/Indiana, a nonpartisan citizens lobbying organization that works for open, honest and accountable government. Send comments on this column to ibjedit@ibj.com.
Please enable JavaScript to view this content.