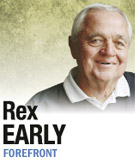 In a January issue of Forefront, Jim Shella reported on the Indiana Democratic Party and its internal problems. Believe it or not, this concerned me. I am an avid defender of our two-party system. The loyal opposition, which is out of power, should look over the shoulder of the party in power.
As a loyal Republican and a former Republican state chairman, I want to help my brother Democrats pull their party back together. I realize there will be criticism about my helping the Democrats, but as my Irish Grandma Moran used to say, "It's me duty" to get involved.
As reported, the Marion County Democratic chairman and the Lake County chairman have been cut out of the decision making by the state chairman, Dan Parker. I understand that Parker, an Evan Bayh loyalist, decided to step down as chairman. Bayh is no longer a candidate or officeholder so Parker's resignation made sense.
What does not make sense was the opposition John Gregg ran into when he tried to get his choice, Tim Jeffers, as chairman. The candidate for governor should be able to pick his or her chairman.
I know Gregg. We are both from Knox County. John is pro-life and pro-2nd Amendment. He is a very likable guy, considering he is a Democrat.
I coached Tim Jeffers in CYO football and he is an outstanding young man other than being a Democrat. I would have thought they would be a formidable opponent in the 2012 election.
What really concerns me about the Democratic Party is when I read that some of the leadership implied that the southern Indiana Democrats had way too much power in the decision making. Does this mean they want another candidate for governor?
Now I certainly do not want to cause a rift between the northwestern and southern Democrats at this late date. It would be un-American.
However, this question of another candidate worries me. Because of that, I have taken it upon myself to see if there are any other candidates.
The first thing I did was to contact Bernard "Bud" Gohmann. Bud was a Republican officeholder for 20 years and is an expert on politics as well as being a computer whiz. Gohmann has developed software that can accurately pick the strongest candidates in an election.
This program was initially developed to pick the winner in horse races. According to Bud, it wouldn't work because you couldn't trust the jockeys. He since has converted this program to pick winners in political races.
Here are Gohmann's picks for the 2012 election.
• For governor: Jill Long Thompson. She ran an excellent campaign in 2008, losing by only 481,422 votes. This was in an election in which Obama won Indiana.
• For lieutenant governor: Melina Kennedy. Melina is a very nice lady who barely lost the 2011 Indianapolis mayor's election in a Republican county.
• For Democratic Party chairman: Ann Delaney. Ann was a former Democrat state chairwoman and a candidate for Congress.
This all-women team could be a bombshell, as we are told by the media there are now more women voters than men voters. This team could be labeled the Second Chance Team. This reminds the voters that Abe Lincoln ran several times before he was elected to public office.
I realize it is late for a new team to enter the fray; however, I am sure there are some Democrats in South Bend who could get the necessary signatures for the gubernatorial candidate.
I feel somewhat guilty, as a Republican, about sharing this confidential information, but again, it is my civic duty and that outweighs my partisan beliefs and my support for Mike Pence.
I do want to remind Parker and Marion County Chairman Ed Treacy what Rodney King said: "Can we all get along?"
(It's not too late to send each other a Valentine.)•
__________
Early served in the Indiana House and as a Republican state chairman, as well as on the Republican National Committee. Send comments on this column to ibjedit@ibj.com.
Please enable JavaScript to view this content.