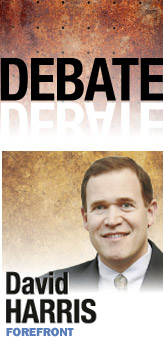 Question: State Superintendent of Public Instruction Tony Bennett is proposing that all high school students take at least one online class before graduation. Is this a good idea?
Answer: State Superintendent of Public Instruction Tony Bennett's proposal to require all students to take one course online before graduating high school is a positive step toward creating an education system that uses technology to improve student's learning experience. But state leaders should keep a strong focus on quality and accountability.
Many online courses provide students with options that aren't available at their local schools. Some students take advanced placement calculus or foreign language. Some use online learning to add flexibility in their schedule so they can pursue extracurricular activities or address health issues that keep them at home. Others take courses online for credit-recovery.
In certain instances technology is actually changing the very nature of teaching and learning and helping students achieve at drastically higher rates. High-performing public schools such as Rocketship in California and Carpe Diem in Arizona have implemented novel blended-learning models that state leaders should explore.
At Rocketship schools, 87 percent of students receive free or reduced-price lunch and 94 percent are African-American or Hispanic. Students get 75 percent of their instruction in traditional classrooms but have a two-hour block in a learning lab, where students practice basic reading and math skills with online programs. That enables teachers to focus more time in the classroom on higher-order thinking skills.
Rocketship's students achieved 93-percent proficiency in math and 75-percent in English language arts, beating the state averages by 25 percent and 14 percent, respectively.
At Carpe Diem, students rotate through 55-minute online and face-to-face periods. Basic concepts are introduced through online lessons that are self-paced, and teachers use the other rotation periods to help students get a deeper understanding of those concepts through individual or small-group instruction. About 61 percent of Carpe Diem students qualify for free or reduced lunch, yet the school is among the top 10 performing charters statewide and was named one of the best schools in the nation by U.S. News & World Report.
Rocketship and Carpe Diem are successful for a variety of reasons, but chief among them is that they are using technology to change what happens in the classroom. They are changing the roles of teachers, empowering them with data and training them to maximize learning gains through a blend of online and direct instruction. They are providing space in school for students to learn online so they benefit from the guidance of teachers, learning-lab aides and peers.
To create these quality-learning opportunities, Indiana will need to adopt a strong accountability framework for online providers. At the state-run Florida Virtual School, per-pupil dollars for each course are tied to students' successful course completion. This ensures that teachers go the extra mile to help students complete their work and meet performance benchmarks.
Indiana leaders should consider strategies such as this that will tip the odds that online learning actually drives student achievement.
Technology is a dominant force in the 21st century economy, and helping students become competent online learners will support them as they prepare for higher education and jobs in the knowledge economy.
The key for Indiana is to ensure that any new online learning requirement stimulates quality new options for students and helps teachers innovate in the classroom.
With these priorities in place, our students will get the rich learning experiences they deserve.•
__________
Harris is CEO of The Mind Trust, a not-for-profit supporting entrepreneurial education initiatives. Send comments on this column to ibjedit@ibj.com.
Please enable JavaScript to view this content.