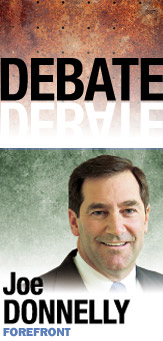 Question: Approval ratings of Congress are at historic lows—in single digits according to some surveys. What is the greatest source of the criticism, and what would restore the public's favor?
Answer: The American people aren't happy with Congress, and I share their frustration. News from the partisans in Washington is rarely good and usually involves arguments better suited to playgrounds.
Millions of Americans are out of work or working less than they want to. Families are being forced to make tough decisions, but when we look to Congress, all we see is political posturing. Too often, partisan lines are drawn in the sand before debate even begins.
It's all too clear: Washington just isn't like the rest of America, especially those of us who live in Indiana. There is certainly more wisdom in Rushville than on Capitol Hill.
If Congress played by the same rules Hoosier families do, we could start addressing the critical issues facing our nation. Congress has to earn the public trust again, and the only way to do that is to work together across party lines to stop excessive spending, go all-in on American energy and, of course, focus on job creation.
There's a lot of talk about creating jobs—but let's start by not giving away the jobs we have. Currently, trade with China is a one-way street. The Chinese government is manipulating its currency to make its products cheaper than ones made in America.
We have to stop this cheating so Indiana businesses can compete and succeed.
We must also work hard to invest in Indiana, and that is why I stood up to save more than 75,000 Indiana auto jobs.
On American-made energy, my approach is "all in." We need to drill for oil. We need coal. And we need alternative energy like wind and clean coal. We can no longer send billions of dollars to Middle East dictators for energy resources each year. Energy independence is a critical need for our economy and the long-term strength of our country.
My three short terms in Congress have taught me one thing: Washington needs fixing. That is why in Congress I've said, "Enough," on spending.
It's time Washington plays by the same rules as the rest of us and stops spending more than we have. Washington wants us to believe we have to spend our way to prosperity.
I believe in passing a balanced-budget amendment.
I ran a small business for more than 25 years. There were good days and there were bad days, but all the employees and I worked hard to grow the American Dream. It wasn't always easy, but we had pride in our work and in what we made in Indiana.
That is why I understand when small businesses and families look at government and ask, "Do you have any idea how hard I work to make my money, and all I feel is that you take it from me?"
We're all in this together. Indiana's families need jobs, and small businesses create those jobs, not Washington.
Congress needs to focus on cutting taxes for those small businesses and keeping money in the pockets of their customers. For too long, Congress has focused on partisan games. It's time to focus on working families.
The center of America's heartland is right here in Indiana. It's in the factories, the farms, the small businesses and working families of this state. Hoosiers are people who roll their sleeves up to get the job done—who respond to results, not partisan games.
That is what America wants from Congress, and that is what voters deserve. That is what I'm about and it is why I am running for the United States Senate.•
__________
Donnelly, a Democrat from Granger, represents Indiana's 2nd Congressional District and is seeking election to the U.S. Senate. Send comments on this column to ibjedit@ibj.com.
Please enable JavaScript to view this content.