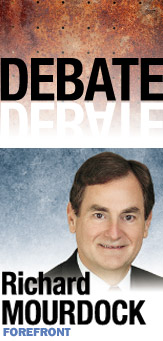 Question: Approval ratings of Congress are at historic lows—in single digits according to some surveys. What is the greatest source of the criticism, and what would restore the public's favor?
Answer: Congress is clearly out of touch. Recent polling shows a 9-percent approval rate for a legislative body that continually ignores the desires and wishes of the American people.
Americans are outraged because they have come to realize that members of Capitol Hill have abandoned the core values of our country.
For example, Congress mocks the fundamental American concept of equality. Ask the next person you see if he or she believes the federal government should be discriminating by picking winners and losers in our economy. Republicans, Democrats and independents know the answer is an absolute "no."
We have seen the federal government use "crony capitalism" to save businesses that should have otherwise failed and reward a select few with health care waivers, while penalties are enforced on perceived political foes.
Congress, under a Republican and a Democratic president, has pumped billions upon billions of dollars into several solar-panel companies, large government-sponsored enterprises, select financial institutions, and both domestic and foreign-owned automobile companies. Congress did not want the employees of those companies to suffer the harsh but honest fate of unsuccessful capitalism.
Yet, Hostess, Circuit City and literally thousands of other small businesses across the country failed, but their investors and employees found no such assistance from Washington.
Therein is the inequality that underlies the growing outrage by the American people. Congress is acting in a consistently un-American fashion. In the eyes of Congress today, all people and organizations are equal, yet some are more equal than others.
But that is only one clear example of an out-of-touch Congress assaulting our long-standing, quintessential American values.
Americans do believe in safety nets, but unemployment benefits are now so lucrative that businesses of all sizes can't find workers despite record unemployment rates. Congress has enacted a welfare and food-stamp program whose value is greater than industriousness. Where are the congressmen with the guts to speak about this politically incorrect truth?
The XL Keystone Pipeline is instructive in that it causes all of us to ask a basic question: "How many Washington bureaucrats does it take to build a single pipeline?" Every individual state has an environmental agency that knows its own geology and ecology, yet the environmental lords of the federal government in Washington, D.C., override local expertise. What happened to the notion that government governs best that governs closest to the people?
Sacrifice, thrift and frugality are traditional values that all Americans embrace. When Congress' failure to reduce government spending resulted in a historic downgrade of our nation's AAA credit rating, some thought Congress and even the White House would finally change their course. But they have not sensed the obvious emergency.
Americans are outraged that Congress is still playing financial roulette with our futures by refusing to roll back the size and scope of the federal government, even as the daily interest on our national debt approaches a record $400 million.
Americans sense that Congress is out of touch with our everyday frustrations, as well. As we take off our tennis shoes, as grandmothers are body-searched and deadly cans of shaving cream are whisked away at our nation's airports, we have the uneasy sense that our congressmen aren't standing in these exact same lines and suffering through these everyday indignities. Surely, that must be the case or an outraged congressman would have by now screened the Traffic Safety Administration budget.
Our Founding Fathers had the wisdom to continue our nation's revolution biennially so congressional leaders might stay in touch with their electors. Those on Capitol Hill who have lost touch are about to have their fates placed before the outraged. It will definitely make for an interesting election year.•
__________
Mourdock, Indiana state treasurer, is seeking the Republican nomination for the U.S. Senate. Send comments on this column to [email protected].
Please enable JavaScript to view this content.