Just what personal memories are worth—in dollars and cents—Jason Becker and Brandon Sokol are about to find out.
This March, they plan to launch Remember.com, whose modest mission is "the preservation of the world's memories."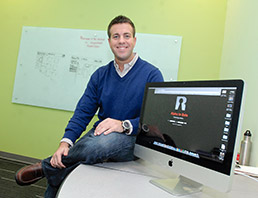 Jason Becker, co-founder of Remember.com, is preparing for site launch next month. The website will allow people to record and share memories for free. (IBJ Photo/ Perry Reichanadter)
The 2004 DePauw University economics graduates won't yet divulge how the site will convert neurons to net income. Conceptually, though, this virtual memory bank of shared experiences could have mass appeal to those who want to "reflect their own history in their own way, from their perspective," said Becker, 29.
"First and foremost, our goal is a place that reflects the nostalgia of people's experiences."
Visitors will be able to enter a narrative of their memories of a shared experience—say of their time at a particular university or an event such as 9/11.
Those narratives can be accentuated by uploading images, such as video shot from a wireless phone, into the collective memory of a particular person, place, thing or event.
Today, snippets of personal memories are preserved in numerous places, such as self-centered social media sites the likes of Facebook or Twitter. Individual institutions or companies have their own forums, whether it be San Francisco's Pier 39 memory app or Toyota's Camry owners' site. But such memories are diffuse on the Web.
"These are cool, but imagine if we could place all of those things under one roof," said Becker, the son of First Internet Bank of Indiana founder and tech entrepreneur David Becker.
If the duo is successful, Remember.com would become the one-stop kind of site that Wikipedia is for knowledge or Facebook is for friends.
"There should be a dedicated platform on the Internet [for memories]. Those aren't being captured in any appreciable way by social media," said Sokol, 29, of Anderson, previously a technology analyst at JP Morgan Securities in New York.
Gearing for launch
For this site to draw eyes, one has to assume people want to share their memories and other people want to read them. Becker asserts that memories, indeed, have worth.
"Unlike 'stuff,' unlike material possessions, memories appreciate in value," he said. "It's an emerging space."
The concept began taking shape while both were at DePauw. Sokol already had some practice at the concept, having jotted down the memories of relatives who came over from Europe as a gift to his family.
Sokol further incubated the idea while studying at The Wharton School at the University of Pennsylvania. He later went to work at JP Morgan and at Zelnick Media, a New York firm that invests in media properties.
Becker worked for Chicago-based consulting firm West Monroe Partners and recently completed graduate studies at Northwestern University.
Returning to the region, the duo and four employees have quietly been readying the site for launch this spring. Remember.com will be free to join and to peruse. A preliminary version of the site that was available recently explained the use of "memory credits" that cost 1 cent apiece. Ignore that, said Becker, saying it involves a personal journal function the two have also been tinkering with.
Asked how the site would generate income, such as use of advertising, Sokol declined to elaborate, for now. "We have a monetization [plan] in mind."
Funding for site development has come from friends and family, to this point. Becker and Sokol outsourced initial site design to avoid getting bogged down on the prototype. The company's own team is now working to complete the site from an office near East 82nd Street and Hague Road.
When the site goes live, "visitors will see aggregated memories related to people, places and topics and can browse the full site to consume the content," Becker said.
The first big topic: DePauw University. The university is working with Remember.com to capture alumni memories of the institution as part of its 175th anniversary celebration.
Compelling enough?
The Remember.com concept reminds media marketing expert Lorraine Ball of a sort of evolution of the personal blog. One could look back upon a parent's reflections of a child growing up, for example.
"This is sort of taking it the next place, where this is a shared experience," said Ball, creative director of Indianapolis marketing firm RoundPeg.
Ball wonders, though, whether Remember.com can entice people to share their experiences, saying there are signs that "people are overextended on social media."
She can see such a site being popular among groups, such as academic researchers seeking personal reflections of historic events, for example. Such a site could be useful for documenting memories of, say, voters on election night when Barack Obama was elected the nation's first black president, she said.
"I think the thing that intrigues me is the historical documentation" angle, she said. "As an individual, I'm trying to figure out the motivation for sharing my memories … . Would it be something I would use on a regular basis?"
Becker said he's confident there's no shortage of people wanting to reflect on their past at "a place where one's affinities come to life."
Said Sokol: "We've been told that, if this works, we have the potential of changing how people are remembering."•
Please enable JavaScript to view this content.