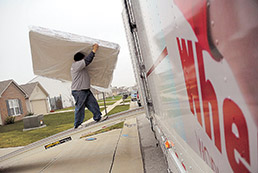 Wheaton rode out the recession in part by diversification, including military moving contracts. Bekins focused on the residential housing market, which has suffered. (IBJ File Photo)
Wheaton World Wide Moving is buying the nation's oldest and one of its largest household movers, Bekins Van Lines.

The deal is expected to bring 38 jobs to Wheaton's northeast-side headquarters. Wheaton currently employs 137; Hillside, Ill.-based Bekins, about 110.

Wheaton executives declined to disclose terms of the deal, which should add $80 million to the Indianapolis company's $170 million in annual sales.

Moreover, the Bekins deal is expected to boost Wheaton's standing in the $16 billion moving and storage industry from sixth-largest to No. 4.

The 121-year-old Bekins has a strong identity in the household moving market, particularly in Chicago and in the western United States. Wheaton is more focused in the Northeast and Midwest.

"We'll keep the brands separate in the marketplace," said Wheaton CEO Mark Kirschner.
Kirschner
Bekins had about half its business in the residential moving market, which was hammered during the recession and housing crisis.

Only about 25 percent of Wheaton's business was in the residential market, with corporate clients amounting to roughly another 25 percent.

While the residential sector was souring, Wheaton was able to mitigate the effects in part through contracts with the military, which now accounts for about half of its business.

Bekins' focus on residential moving should pay off for Wheaton as the economy improves down the road, Kirschner said, adding, "In the last three months, it has improved marginally."

The fact that Bekins has a different geographic focus should help diversify Wheaton's footprint, he said.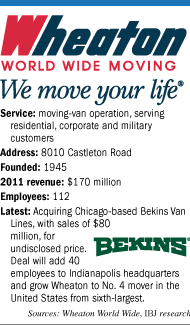 Although the brands will remain separate, the Indianapolis company expects to see savings by combining back-office operations such as dispatch, claims and customer service, said A.J. Schneider, vice president of sales and marketing at Wheaton.

Most of Bekins' employees will lose their jobs as a result of the merger. The bulk of its 110 employees work out of the suburban Chicago headquarters, which will be closed.

Wheaton has invited a number of Bekins employees to apply for jobs in Indianapolis, but it's unclear how many will move here, Schneider said.

The Indianapolis company does not plan to expand its facility but is knocking out walls and reconfiguring offices to make room.

Buying Bekins also should help Wheaton to grow market share in the corporate moving sector, Schneider said.

Wheaton was founded in Indianapolis in 1945 by Earnest Wheaton—originally as Clipper Van Lines. The company adopted an employee-stock ownership plan in 1987.

"Wheaton has been fiscally conservative, which has put us in a great position to do this deal. Essentially, we've had no long-term debt," Schneider said.

The company does not disclose its financials, but "we may be the only company to have earned a little bit of a profit every year," he said.

That's in contrast to some competitors, including Chicago-based SIRVA Inc., which owns Fort Wayne-based North American Van Lines. SIRVA, which formed in 1999 with the merger of North American and Allied Van Lines, filed for Chapter 11 bankruptcy in 2008. SIRVA, with $1.7 billion in revenue, is the largest carrier group in the household moving industry.

The housing market meltdown has led to consolidation in the moving and relocation industry. Wheaton estimates that the industry over all its segments has shrunk by about 200,000 moves, meaning there's less to split among all carriers.

"We're excited about the ability to expand in this market," Kirschner said.

Indiana is home to some of the nation's largest household-goods moving firms.

Besides Wheaton and North American is Evansville-based Atlas World Group, parent of Atlas Van Lines. Atlas has revenue of $1 billion and ranks third-largest in some industry rankings, ahead of Wheaton.

Mayflower Transit, which left its Carmel headquarters in 2005, is No. 2 when combined with its sister company, United Van Lines. The carriers are owned by Fenton, Mo.-based UniGroup, with revenue of $1.5 billion, according to a ranking by Transport Topics.

A smaller moving chain based in Indianapolis is the 93-year-old American Red Ball. Atlas brought the firm in the 1990s, but later sold part of it back to American Red Ball executives.

Most every major household-goods van line "is either headquartered in the state or at one time was," Schneider said.

This niche of Indiana's logistics industry is due in part to the state's central location, said David Holt, vice president of operations and business development at Conexus, the Indianapolis-based logistics initiative.

The state is within one day's truck drive of 75 percent of the U.S. population, according to Conexus.

"These guys are some of the top players nationally" in moving, he said.

Indiana Economic Development Corp. has offered Wheaton up to $300,000 in tax credits based on how many new jobs are added here as a result of the Bekins purchase.•