Beaux Barfield, the IndyCar Series' new race director, distributed a new rulebook to team officials Feb. 7.
Last month, Barfield was hired to replace Brian Barnhart as IndyCar race director.
Barfield said the goal of the rulebook "was to reformat the 2012 rulebook for ease of use in conjunction with the debut of the Dallara DW12 chassis and participation by three engine manufacturers."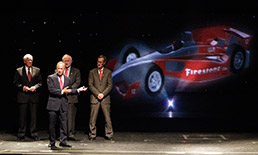 State and Speedway officials in 2010 unveiled the Dallara chassis that prompted the rewrite of IndyCar rules just released. (AP photo)
Chevrolet and Lotus will join Honda this year as series engine suppliers. The series is rolling out a new chassis and engine formula for the first time since 2005.
"A rulebook is written to protect the rights of its competitors and empower the officials," said Barfield, who joined the IndyCar Series in January after several years as race director of the American Le Mans Series.
"It's that balance you're trying to strike when you're writing rules, and it's very important in generating the product we long for on-track. I'm confident that we've created the proper balance with this rulebook moving forward this season."
Last year, the series was criticized by team owners and drivers for arcane rules and an inconsistent application of the rules.
Please enable JavaScript to view this content.