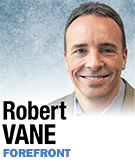 Reform movements have been a part of American politics since our founding over 200 years ago. Some reformers work outside the political system, while others work within it.
Abolition, women's suffrage, prohibition, the civil rights movement and many others spawned both a change in our society and new generations of political leaders.
In Indiana, the Republican Party has seized the mantle of reform. Gov. Mitch Daniels (I'm thankful) has fundamentally reshaped much of how state government works.
Don't believe me? Just make a trip to your local license branch.
And while transforming the BMV into a customer-first model of efficiency is important, it pales in comparison to reforming how we educate our children.
Education reform is happening now in Indiana for many reasons, but largely because the 21st-century economy doesn't support the types of students our current system of education is providing. We must dramatically improve education performance to ensure we have a viable economy in future years.
The 2011 reforms were a solid step forward and showed we could make significant progress. Much work was done and much work is yet to be done.
Again, the Republican Party is leading the way. With the reforms of Daniels and his superb superintendent of public instruction, Tony Bennett, Indiana has become the center of education policy debate in the United States.
Now, some of the people who played a pivotal role in shaping this debate are also running for public office. Two Republicans in particular, Luke Messer and Todd Huston, will be on the ballot this November.
Former State Rep. Luke Messer is running for Congress from the 6th District. As both an elected official and in his work in the private sector, Messer has made improving education a top priority. But he knows it takes more than one person pulling the reform wagon in order to get things done.
"Through the hard work and courage of leaders like Tony Bennett, Gov. Daniels and our state legislators, Indiana has become a national model for education reform," Messer says. "We are all proud of those efforts. At a federal level, we need to [send] block-grant dollars back to the states, get the federal government out of the way, and create the environment for more Indianas at the state and local level."
Todd Huston, former chief of staff to Tony Bennett, is the favorite to be the state representative from the newly drawn House District 37 in Hamilton County. A leader of the Republican education reform movement for the past decade, Huston is ready to fight the good fight in the Legislature.
For Huston, it is easy to see why Republicans have seized the education reform mantle in Indiana.
"While nationally, education reform has been a bipartisan issue, in Indiana the Republicans aren't bound to protect the interests of the teachers' union like the Indiana Democrats are," Huston says.
Because of the tremendous amount of money from teachers' union dues collected across the country, reformers can expect to be demonized and excoriated in mail pieces and other paid media.
Bennett, too, is on the ballot in 2012. His race will not be for the faint of heart. The teachers' union and the Democratic Party (to the extent there is a difference) will stop at nothing to defeat him.
To be fair, some Democrats are embracing the reform agenda. State Rep. Mary Ann Sullivan, for example, deservedly receives plaudits for her decades-long work at improving education quality and education choice.
But without Daniels, without Bennett, and without Republicans pushing hard for something better for our children, Indiana doesn't become the model for education reform in the United States.
This reform movement, this Republican Party reform movement, may prosper at the ballot box—and it should. The motivation for reform, however, goes much deeper. Messer says it better than I can:
"Every American is entitled to an opportunity for success. In modern life, you just can't provide those kinds of opportunities without providing access to a quality education."•
__________
Vane, a U.S. Army veteran, has worked for elected Republican officials including Indianapolis Mayor Greg Ballard, and currently owns the public relations firm Veteran Strategies. Send comments on this column to [email protected].
Please enable JavaScript to view this content.