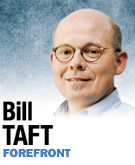 Indianapolis residents are basking in the glow of the undisputed greatness this city showed in hosting the Super Bowl. It is the latest in a string of successful events and major projects we have completed that have raised Indy's status from a forgettable flyover town to the rising star of the Midwest.
Now that the rest of the country has recognized our ascendance through national events, can we become confident enough to measure our greatness by our own standards? If you look closely at our success, it was achieved with local talent and resources that should not depend on a national event for their availability.
Shouldn't our aspirations beyond the Super Bowl focus local resources on building the essential businesses, institutions, neighborhoods, creative culture and infrastructure necessary to ensure a vital urban future for Indianapolis?
The morning after the game, I found myself scanning the Web eagerly seeking reviews from the national media on how well they thought Indianapolis performed as a Super Bowl host city, and I'm pretty sure I wasn't doing this alone. This hunger for affirmation from outside sources suddenly reminded me of how adolescents behave, and how all parents encourage them to stop seeking the approval of others and instead develop their own gifts and capacities to become confident in themselves.
Well, Indianapolis has now grown beyond needing the approval of New York journalists and can focus on developing our unique assets to become the best city we can be … for us.
The week of the Super Bowl highlighted our capacity to remake Indy's older urban spaces into assets on which we can build our future. The Super Bowl Village proved to be a unique, visually rich, walkable and tasty setting for an event that in other cities is spread across miles of interstate.
Forty years of downtown investment have resulted in an urban center unrivaled in a Midwestern city our size. For the week preceding the arrival of most out-of-town fans, downtown was packed with Hoosiers enjoying the fruit of this long-term investment. We didn't need to import anyone from the East Coast to achieve such vibrant streets.
As I looked around, I realized downtown is indeed our city's living room. We just need to create reasons for more of our residents to use it on a regular basis. Wouldn't a high-quality transit system, more residents and businesses, and healthier surrounding neighborhoods be worthy goals to give downtown Super Bowl-like vibrancy every weekend?
The Near East Side Super Bowl Legacy Initiative is probably the first urban revitalization initiative to be featured on an international sports championship broadcast. While the civic excitement brought to this neighborhood work by the host committee was essential to its success, almost all of the $150 million invested in implementing the neighborhood's quality-of-life plan was generated by local effort.
This plan detailed goals for housing improvements, commercial revitalization, early childhood development, enhancing green spaces, educating youth and adults, and putting residents to work through focused, collaborative action. Neighborhood residents worked side-by-side with volunteers from around the city to creatively obtain and invest dollars that had nothing to do with the NFL.
We have opportunities in other core neighborhoods prepared to enter into similar partnerships that would rebuild their own vitality. With 10,000 vacant houses primarily clustered in our core neighborhoods, we have the opportunity to create real incentives for families and singles to choose urban living. Doesn't it make sense to replicate the creative partnerships of the Legacy Initiative in many more neighborhoods to rebuild our city center as a vibrant anchor for our entire region?
We have proven Indianapolis is a big-league city that can accomplish what it sets out to do. Now we have the opportunity to focus this excellence on tackling urban challenges we set for ourselves. It will take a similar kind of bipartisan and regional cooperation, talented leadership, serious investment, and the thousands of supportive individuals who made Super Bowl XLVI spectacular, but there is no reason we can't do this.•
__________
Taft is Indianapolis executive director of Local Initiatives Support Corp., a not-for-profit that invests in neighborhood redevelopment projects. Views expressed here are the writer's. Send comments on this column to ibjedit@ibj.com.
Please enable JavaScript to view this content.