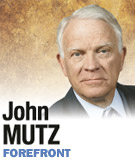 The mystery of mental illness still haunts our society and is likely to challenge budget makers at the state and federal level for years. The angst will result from a new effort to greatly broaden the definitions of mental illness.

A committee of experts appointed by the American Psychiatric Association is proposing changes to industry guidelines used to determine how patients are diagnosed and treated and possibly whether insurers pay for the care. The new edition of the Diagnostic and Statistical Manual of Mental Disorders is scheduled to be published next year.

For many of us, mental illness is hard to understand. Severe depression can be as debilitating as critical physical injuries. Its symptoms are limited to behavioral phenomena that are often misinterpreted by the casual observer. My introduction to mental illness occurred when my mother suffered from severe depression during my high school and college years. For non-believers, I can assure you this illness can take a terrible toll on a family.

Probably as a result of my experience, I was deeply involved in mental health funding as state budget chairman during my legislative career. During the 1970s and 1980s, remarkable drug discoveries gave Indiana opportunities to lower the number of citizens housed in state mental institutions. As patients left institutional care, we created a statewide network of community mental health centers that provided local service at affordable costs. These centers were also advocates of preventive care. Many citizens were able to return to a normal lifestyle as a result of these innovations and, in general, society's attitude toward the mentally ill changed, as well.

The new guidelines being proposed could threaten the progress we have made. They loosen the diagnostic criteria on some existing ailments and brand as mental disorders some common behaviors, including having temper tantrums three times a week or a lack of sexual arousal.

"Everyday disappointments, sufferings and eccentricities are being redefined as psychiatric disorders that could lead to medical treatment," said Allen Francis, a Duke University professor emeritus. "This is expanding the boundaries of psychiatry."

In many cases, family doctors will use the new definitions to treat patients. Drug company ads will dramatize the ailments, which could result in an epidemic. Depiction of an ailment on TV tends to make it real and could cause more people to seek treatment.

An example of the expansion of the definition and at the same time an increase in reimbursable costs is the new version of attention deficit hyperactivity disorder, a long-identified illness that involves hyperactivity in people who have difficulty staying focused. In the current manual, a diagnosis includes the presence of seven factors, including one that occurs before age 7. The new version requires just four factors and none need to have occurred in childhood.

Disruptive mood dysregulation is a new condition characterized by three temper outbursts a week that are out of proportion to a provocation. The increase in the number of people who may require mental illness treatment or drug therapy is likely to increase dramatically. Currently, one in five Americans experienced mental illness this year. This new approach, which even questions the mental health of introverted individuals, could increase costs as much as 25 percent. The more recent data I have reviewed says costs normally increase an average of 7 percent annually.

Under these definitions, some of our most-honored citizens could be considered mentally ill. Abraham Lincoln, according to his biographers, was subject to severe depression. Many artists and performers are eccentric, but our society needs the kind of creative work they do. Normality is not easily defined, nor should it be.

Mental illness should be covered in our health care system. It is the right thing to do. But this new approach will stretch already overtaxed health budgets, including Obamacare, and possibly deny care to those mentally ill patients who need it the most.•

__________

Mutz has held leadership positions including lieutenant governor and president of Lilly Endowment and PSI Energy. Send comments on this column to ibjedit@ibj.com.