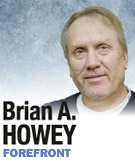 I live in one of those "cutesy houses in Broad Ripple," as once described by then-Senate Finance Chairman Larry Borst back in 2002.
Lured by a historically low 3.3-percent interest rate, the decision was to refinance. And this led us to the rude awakening facing hundreds of thousands of American families. Our home is worth $30,000 less now than when it was purchased in late 2005. And that's after an estimated $40,000 invested in home improvements, such as a paved driveway, new windows and a new air-conditioning unit.
This is a devastating development for middle-class families like mine. Part of my retirement strategy was to invest in the home and have it paid off by retirement. And to have it appreciate in value. That was the trend for the past 70 years, part of the American dream.
Yes, the constitutional property tax caps are good to homeowners. But they represent a hollow victory when the value of the home drops off a cliff.
Who's to blame? Former President George W. Bush? Former House Financial Services Committee Chairman Barney Frank? Former Sen. Chris Dodd? Fannie & Freddie?
Probably all the above. There was a systemic breakdown.
A key reason Congress' approval rating is hovering around 9 percent is what has happened to middle-class families and home values. The American dream is hollowing out. Once-secure middle-class families are feeling the noose tighten around them: higher gas and food prices; higher health insurance; lower or static personal income; skyrocketing college tuition costs with mystery, mandatory student fees being tacked on the bill; and big hits to 401(k)s.
Then there are the banks and the appraisal system that seems rigged in their favor. I was at a gathering the other night and the declining housing values became the topic of discussion among friends. All of us discovered this rude reality during a refinance process.
Here's what was really revealing: Almost all the appraisals on our homes had come in just above the payoff on the existing loans. Is this a coincidence?
District Attorney Joe Hogsett says he is targeting white-collar crime. Could there be new collusion in the appraisal network?
Almost a decade ago here in Indianapolis, an FBI and IRS investigation uncovered an $8 million mortgage fraud conspiracy. Back in those days, it was reverse: Properties were being appraised for two or three times their value.
President Obama broached this topic during his State of the Union address last month.
"There's never been a better time to build, especially since the construction industry was one of the hardest hit when the housing bubble burst," Obama said. "Of course, construction workers weren't the only ones hurt. So were millions of innocent Americans who've seen their home values decline."
The president is sending Congress a plan that gives every responsible homeowner the chance to save about $3,000 a year on their mortgage by refinancing at historically low interest rates.
"No more red tape," he said. " … A small fee on the largest financial institutions will ensure that it won't add to the deficit, and will give banks that were rescued by taxpayers a chance to repay a deficit of trust. Let's never forget: Millions of Americans who work hard and play by the rules every day deserve a government and a financial system that do the same. It's time to apply the same rules from top to bottom: no bailouts, no handouts, and no cop-outs. An America built to last insists on responsibility from everybody."
And Obama said, "We've all paid the price for lenders who sold mortgages to people who couldn't afford them, and buyers who knew they couldn't afford them. That's why we need smart regulations to prevent irresponsible behavior."
Irresponsible behavior, eh?
Seems like we've seen an array of that these days.
The taxpayers bail out the banks. We watch our home values decline. It becomes hard to get a loan. The banks raise the bar on lending.
And to members of Congress, here's a fair warning: I and people like me are really, really mad.•
__________
Howey is a third-generation Hoosier journalist who publishes Howey Politics Indiana. Send comments on this column to [email protected].
Please enable JavaScript to view this content.