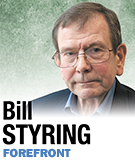 Gov. Mitch Daniels isn't running for president. But he hasn't pulled any punches about what his message would be if he did.
He has repeatedly said at every opportunity that federal government debt—greater than 100 percent of our entire economy and ballooning with deficits of nearly 10 percent of gross domestic product a year—is a sure path to national ruin.
Daniels caught super flak for arguing that these financial trends are such a threat we should call a truce on social issues until we deal with them. He's right.
Greece isn't the best analogy for where we're headed. The Ottoman Empire of the late 1800s is more apt. Nobody would or could bail them out, just as there is no one who can bail out the United States. And you remember what happened to the Ottomans.
The culprits aren't hard to finger. Sure, the "stimulus" bill was $800 billion of ineffective pork. TARP, indeed, was the mother of all bailouts. But these were one-shot deals.
The ongoing driver of our long-term mess are entitlements, especially Medicare and Social Security.
These are old-age entitlements structured around the premise that age 65 is the appropriate time to start cashing in. Age 65 was picked in 1935 when the Social Security Act was passed as the age for full benefits. It took herculean efforts by the Greenspan Commission (whose vice chairman was former Indiana Gov. Otis Bowen) in 1982 to get the age gradually raised to 67, 30 years down the road. Medicare still kicks in at 65.
Around 1880, Otto von Bismarck, the "iron chancellor" of Prussia (precursor to Germany), noticed that the chief clerk in the Prussian War Ministry was getting along in years and would be unable to discharge his duties. He was alone. His wife and, more important, his children, had died long ago. (Children being one's only old-age security.)
The post of chief clerk was a highly responsible position more akin to what we might call a quartermaster general. After the chief clerk's more than 40 years of service, Bismarck didn't want to just toss him out in the snow.
He wanted to give the guy a state pension to live out his years in reasonable dignity and comfort.
Prussia was a highly militaristic country, and one thing it did was keep meticulous birth and death records so as to know how many men of various military ages were around.
The chief clerk happened to be 65 years old.
One of Bismarck's staff pointed out that in all of Prussia there weren't many people 65 and over. Not many lived that long back then. It wouldn't cost much to give everyone over 65, not just the clerk, a state pension.
And so the first "Social Security" system with a retirement age of 65 was born.
In 1908, Lord Beveridge in England was getting the Brits into the state old-age-pension business. He looked around for a model and saw Germany, so he picked age 65.
Then, in 1935, FDR was getting the U.S. into the government old-age-pension business (Social Security). Germany and Great Britain must have had a good reason for age 65, so he picked 65. And in 1965, when we were getting into the government old-age-medical-care business (Medicare), well, we naturally picked 65.
We've gone from an era when few even lived to 65 to a time when the average life expectancy for men is late 70s and for women is well into their 80s. And it's killing us, financially.
Those 76 million baby boomers born between 1946 and 1964 are flooding onto the rolls at a rate of 10,000 each day.
Some way, somehow, with some sort of lag, we have to muster the political will to raise the retirement age for Social Security and Medicare. Otherwise, it's hello Ottoman Empire and goodbye United States.
And all because of some clerk in the Prussian War Ministry 130 years ago.•
__________
Styring is an economist, a former Indiana Chamber of Commerce lobbyist, and a former senior fellow at the Hudson Institute. Send comments on this column to ibjedit@ibj.com.
Please enable JavaScript to view this content.