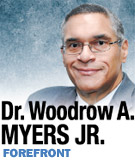 Just talking about it makes environmentalists nervous. The federal government is skittish about it, too. And the automobile industry (for whom I used to work) is downright paranoid and almost refuses to discuss it.
But facts are facts and the laws of physics cannot be repealed: Heavier vehicles (like SUVs, pickup trucks and minivans) are safer for you and your family than smaller, lighter vehicles. It is a permanent advantage that no legislation, or regulation or wishful thinking can overcome.
As any high school physics student can tell you, force = mass X acceleration. Therefore, more mass means more force and, in a crash between two vehicles (irrespective of who the drunk driver may be), it is more likely those in the heavier vehicle will survive.
Heavier vehicles, especially SUVs, are often associated with "excess" and even greed. In some neighborhoods, they are looked on with disdain. They drink more gasoline, they take up more than one small parking space, and they are hard to see over when you are behind them. Overall, heavier vehicles are much safer to drive.
According to last year's report of the Insurance Institute for Highway Safety, large, four-wheel-drive SUVs have an overall driver death rate of 15 per 1 million registered vehicle years, while the rate for small cars (four-door) is 72, and the rate for "mini" size (four-door cars and sports cars) is 82 driver deaths per 1 million registered vehicle years (over five times that of large SUVs).
Those are huge differences and they are hard to ignore. Government reports almost always compare vehicles within weight classes (which is logical only if large vehicles crash exclusively into other large vehicles and small vehicles crash only into one another). Those comparisons hide the significant differentials the insurance industry reports reveal and it is no surprise that the insurance industry (which pays the claims and manages the data for underwriting) would know.
Comparisons between vehicles are not always easy. Some cars are used more in corporate fleets, and are often driven differently than those privately owned. Sports cars are less likely to be used to commute. And over the years, death rates have been coming down because driving is safer (seat belt usage, air bags, electronic stability control, fewer drunk drivers).
Men (irrespective of vehicle driven) have more crashes than women and younger drivers have more than all but the very old. In Indiana, we've revised the laws for young drivers, requiring more practice time with an adult and new restrictions on driving at night. (While the 16-year-old in me is annoyed, the grandfather in me is delighted.)
In spite of small-car marketing concerns, the automobile industry has done a great deal in recent years to advance vehicle safety. New vehicles warn you when you are too close to another or that you are approaching the car in front of you too quickly or that your driving pattern is erratic.
Many vehicles now have rear cameras that help you avoid that tricycle (and its driver). And both industry and government are focusing a great deal more attention on distracted driving (including cell phones, reading the paper and one of the worst—t-e-x-t-i-n-g).
It comes down to this: Some things we can control and other things we can't. We can decide to buckle up, put the smartphone away, stay at the speed limit, and call a taxi or a friend when we've had one-too-many.
We can also decide what vehicle to buy. Of course, new SUVs and pickups are often more expensive than new cars. However, used SUVs are some of the best deals around. Your miles per gallon will be lower, but the differences are dropping (and there are hybrid SUVs where the miles per gallon are the same as some cars).
So it's not a lack of concern about the environment and, no, I don't fill its spacious storage capacity on every trip out. It is simple common sense. There is more steel to protect my kids and grandkids.•
__________
Myers is a former chief medical officer for WellPoint Inc. and served as health commissioner for Indiana and New York City. Send comments on this column to ibjedit@ibj.com.
Please enable JavaScript to view this content.